Volunteerism rates have steadily increased in recent years, and employees are looking for more opportunities to put their skills to work and perhaps even learn new skills along the way. One organization that often encourages a bit of both is Habitat for Humanity, where volunteers build homes for families in need across the U.S.
GAF has long been inspiring employees to volunteer in the communities where they live and work by contributing their enthusiasm and expertise to local organizations. In early May, two employees from GAF's Burgaw, NC plant—Suzanne Amigo, a Senior Specialist in LL Building Products Retail Sales & Product Support, and Jodi Rose, a Utility Associate in the Punch Press area—did just that. They spent the day volunteering at the Cape Fear Habitat for Humanity Women's Build with ten additional colleagues from GAF's Burgaw plant.
Here, they share their experiences and why they found volunteering so rewarding.
A Helping Hand for a Fresh Start
After working for GAF for 23 years, Amigo's first Habitat for Humanity project involved building a single-family home, which required moving roof trusses by hand from the delivery zone to the house and installing exterior wall sheathing on both ends of the house.
"I love the opportunity that GAF offers each employee in allowing us to have volunteer time. Knowing that I was helping a young woman build a home for herself was very rewarding," says Amigo.
Rose, who joined GAF about 24 years ago, adds that she considers giving her time to be even more valuable than making a financial donation to a charitable organization. "I've always wanted to be a part of something like this," says Rose. "When the opportunity presented itself, I couldn't resist saying 'yes.'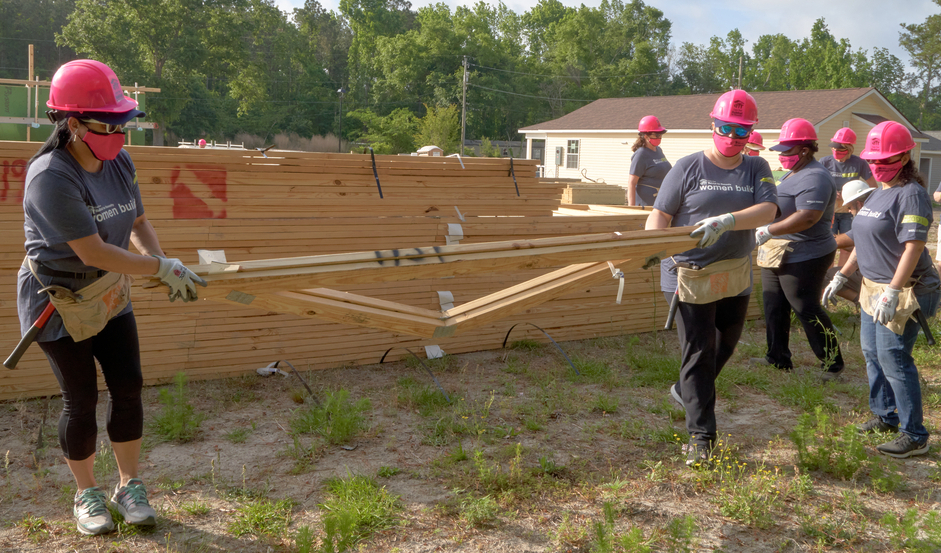 Learning on the Job
Habitat for Humanity organizes several Women Build projects each year, and provides expert training and supplies to the volunteer building crew. Between learning the ropes of what work had to be done and following directions for specific tasks, there was a ton to do. "It became more fun as the day progressed, and it was fascinating to learn how a home is actually built," recalls Rose.
According to Amigo, the atmosphere at the job site was very focused on the tasks at hand. Safety was the number one concern, and learning new skills was a bonus. Her experiences left her very impressed with how Habitat for Humanity conducts their builds.
"That day, I learned that our local Habitat for Humanity is building a community of homes in our area, and they are changing lives every day . . . I have a much greater appreciation for what they do, and I would absolutely volunteer to work on another project again," she says.
Building Community and Inspiring Volunteers
Rose explained that her day at the build started with helping to reorganize some lumber. Then, she assisted the team in getting the large trellises for the roof on and hammered some of the smaller trellises at the front of the house. The soon-to-be new homeowner, who is deaf, worked alongside the GAF volunteers that day, helping to build her dream home.
"It was so rewarding to know I helped build part of a room, and I definitely want to do this again," says Rose. "I would also encourage my co-workers to think about volunteering with Habitat for Humanity."
Amigo adds that she believes supporting the community where you live and work is something every person should do.
"Giving back when we are able to is huge. I like to think that it's like a trickle effect: Someone seeing a good deed feels compelled to do something good for someone else. If I were ever in the same situation, I would hope that someone would step up to help me the way I have helped others."
For both women, the best part of their Habitat for Humanity experience was knowing that a young family would have a new home thanks to their collective efforts.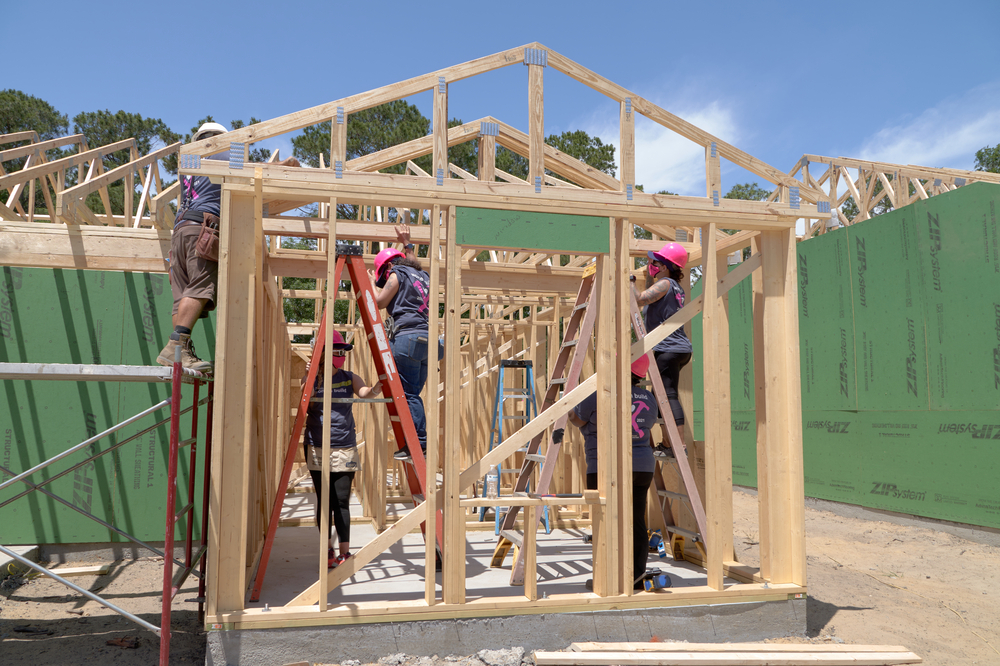 You can learn more about how GAF is giving back to their communities in the company's Social Impact Report. Please visit the GAF Careers page for opportunities to work for an organization that is committed to making a positive impact on our communities.