Well-placed shingle nails are crucial for building top-performing roofs. When roofing nails are positioned improperly or driven incorrectly, the roofing system may become vulnerable to issues, such as punctures, buckling, sealing failures, blow-offs, and raised tabs. Ultimately, improperly installed nails result in lost time, lost labor, material waste, and callbacks for roofers.
Knowing the facts about proper shingle nail installation can help the quality of your roof installations. You can also increase the speed of your shingle installation and reduce nailing errors by using shingles with clear and wide nailing areas, such as GAF Timberline HDZ® Shingles with LayerLock® Technology.
Know Your Shingle Nails
Four nails per shingle is widely accepted as the industry standard, but warranty requirements and building codes may call for more. The Asphalt Roofing Manufacturers Association states that the best roofing nails for asphalt shingles are resistant to corrosion and made of galvanized steel, stainless steel, aluminum, or copper. Always keep building codes, shingle manufacturer installation instructions, and application circumstances top of mind, as these can impact the number or type of nails required for proper roof installation.
Strike nails at a 90 degree angle from the roof when hammering by hand. Always adjust nail guns appropriately to avoid improper fastener installation. Look out for underdriven, overdriven, or angled nails during installation to reduce the risk of installation issues. Refer to the GAF Pro Field Guide for additional tips.
The number of roofing nails per shingle will depend on installation instructions, roof design, warranty requirements, building codes and more. For example, Timberline® UHD Shingles come with a 15-year limited wind warranty for windspeeds of up to 110 miles per hour when installed with four nails per shingle or up to 130 mph when installed using six nails. In contrast, Timberline HDZ Shingles require only four nails per shingle for up to 130 mph coverage, thanks to LayerLock Technology. Timberline HDZ Shingles may also be eligible for the GAF WindProven™ limited wind warranty with no maximum wind speed limitation when installed with the required combination of 4 qualifying GAF accessory products.**
Improve Nail Installation Accuracy and Speed
In roofing, every shingle nail counts. If you're wondering how to nail roofing shingles quickly and accurately, try using shingles designed to make your job easier.
Accuracy Made Easy
GAF Timberline HDZ Shingles with Layerlock Technology and the StrikeZone® nailing area make nailing accuracy easy. At 1.81 in. wide, the clearly defined StrikeZone nailing area is the widest in the industry. In fact, the StrikeZone area is 600 times larger than the nailing area on traditional Timberline HD shingles. Highly visible white lines outline the broad nailing area and allow you to quickly and precisely place nails. In fact, a roofer in our test was able to place 999 out of 1,000 nails correctly, meaning that nails were properly placed 99.9% of the time.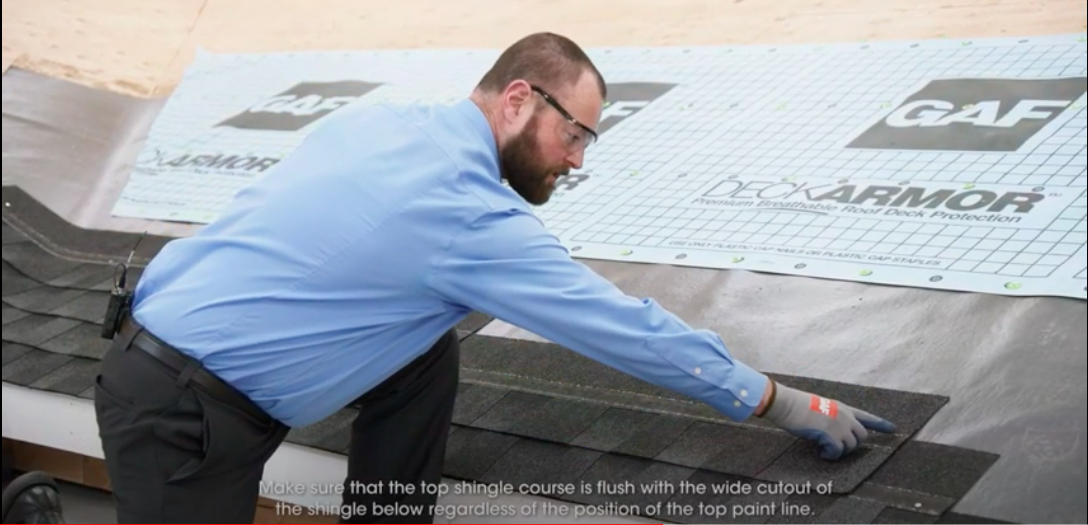 Increased Speed
With great accuracy comes great speed. Nail fastening can happen up to 30% faster when installing GAF shingles with the StrikeZone Nailing Area than when installing traditional Timberline HD Shingles. Over time, minutes saved add a powerful cost benefit to your roofing company.
Simple Installation
To install Timberline HDZ Shingles with Layerlock Technology, simply align the top line of the StrikeZone with the top of the previous course then strike anywhere on or between the paint lines.
By using shingles that are quick and easy to install, you can improve the quality of your installations and build a great reputation, which can help you grow your roofing business over time.
Learn more about GAF technology and strategies that can help your roofing business grow on the GAF Roof Views blog for roofing pros. You can also check out GAF online trainings designed especially for roofing contractors.
**15-year WindProven limited wind warranty on GAF Shingles with LayerLock Technology requires the use of GAF starter strips, roof deck protection, ridge cap shingles, and leak barrier or attic ventilation. See GAF Roofing System Limited Warranty for complete coverage and restrictions. Visit gaf.com/LRS for qualifying GAF products.