The variety of single-ply roofing membrane adhesives available gives contractors some flexibility in their choice of material. But how do you know which choice is best for your project? Environment, weather, and even the use of the building can affect which adhesive is right for the job.
Keep reading to learn more about the different roofing adhesives and the pros and cons of using them on a TPO roof system.
Different Types of Single-Ply Roofing Adhesives
Different jobs call for different tools, and several factors may help determine which type of single-ply adhesive you use. Local zoning requirements, building codes, building type and use, uplift requirements, climate zone and temperature limitation, and the type of roof membrane should all be taken into consideration as you weigh your options.
Comparison of Adhesives and Installation Requirements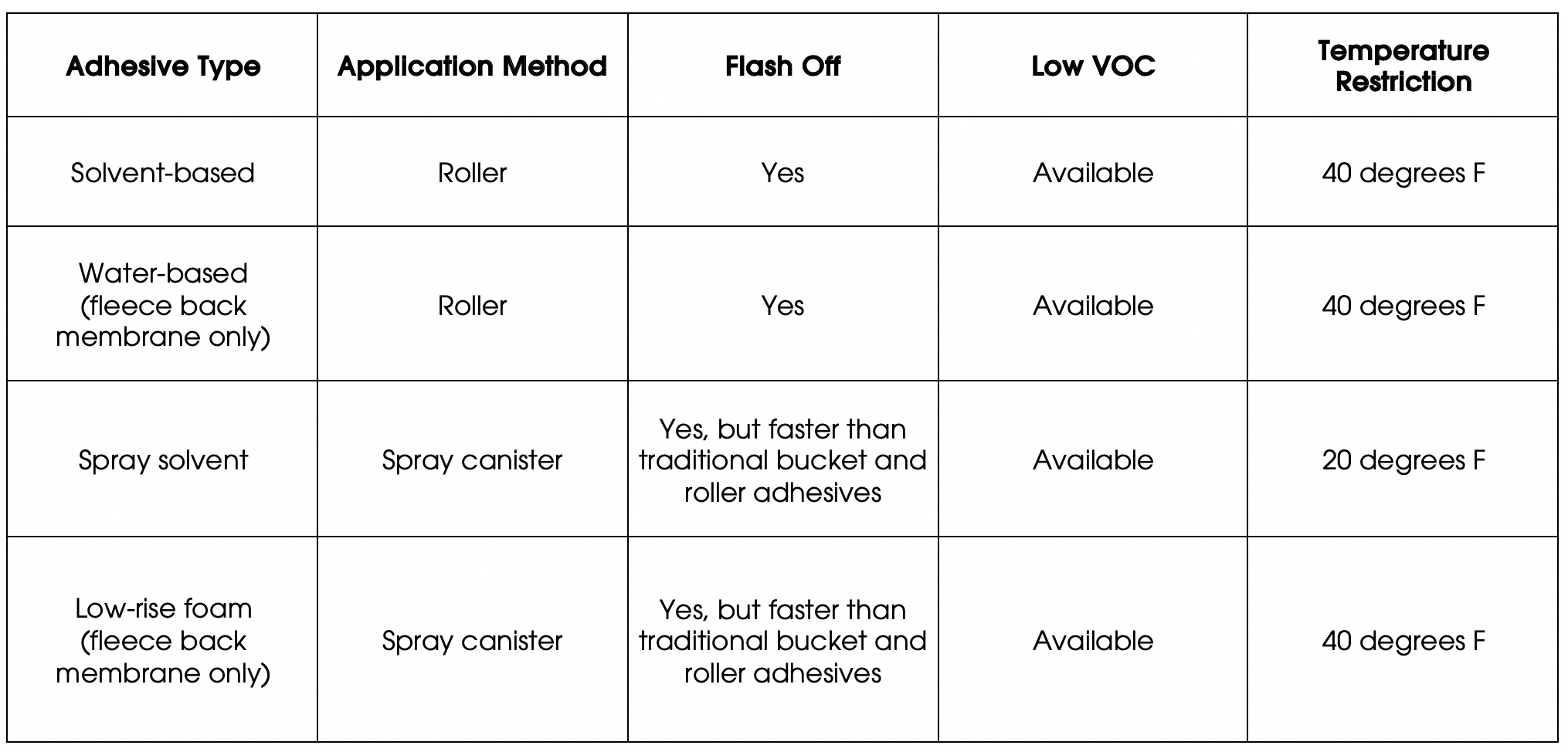 Pros and Cons of Using Single-Ply Adhesives
In addition to the pros and cons of each type of single-ply adhesive, there are also pros and cons to installing adhered single-ply systems generally. There are a number of benefits, according to Chris McGroarty, Director of Commercial Membrane at GAF.
Adhered membranes don't experience fluttering because air cannot get under the membrane. Their higher wind uplift ratings make them a good choice for coastal locations and high wind areas.
An adhered single-ply roof is more impact resistant when you adhere your cover board and then adhere the membrane, eliminating exposed screws and plates. Impact damage often occurs in mechanically attached systems when screws and fasteners are hit by hail.
Adhered single-ply roofs have a smoother finished appearance versus mechanically attached.
Adhered systems are often covered by longer warranties.
However, McGroarty also noted that single-ply adhesives aren't right for every project. There are some potential drawbacks to using them.
An adhered system can be labor-intensive. The substrate may require extra fasteners, and many adhesives need to be applied to both the substrate and the membrane.
Crews must be up to speed on the specific manufacturer's recommended application rate and be able to recognize when the adhesive is tacky enough to form a strong bond.
Water-based adhesives in particular have limitations on their transportation, storage, and use. You'll want to account for additional time and labor to store them in a warm place.
Finally, spray equipment used with adhesives must be kept in good working order; failure to properly maintain equipment can cause clogs in the gun or hose. Equipment must be cleaned, adding time and labor.
Choosing the Best Installation Method
There isn't a one-size-fits-all solution for every installation. You may choose a different installation method like mechanically attaching the membrane. Mechanically attached systems typically install more quickly and with less labor than an adhered system. If the building is occupied and the odor of an adhesive is undesirable, this may be your best bet.
However, if impact or wind uplift resistance is important to you, there are a number of reasons an adhered system may be the better option. It all comes down to understanding what's right for your project.
If you need support in determining the best installation methods and adhesives to use based on the building design and owner's needs, your local GAF territory manager is happy to help.