It's never good to run out of room. Unfortunately, that's exactly what happened to the Shafter Learning Center in Shafter, CA, one of the many communities across the country that GAF calls home.
That's when the local community, Project for Public Spaces (PPS), and GAF partnered with the Shafter Learning Center to design and build the Shafter Learning Center expansion. The additional space will ensure that the Library & Learning Center is able to meet the community's needs today and into the future.
In March, we celebrated the Shafter Learning Center Expansion with a ribbon cutting ceremony, officially welcoming the Shafter community into the new space.
Dedication to Education
The Shafter Learning Center opened in 2014 as a space designed to "open up opportunities for families and students of all ages and ability levels…[fitting] squarely within the City of Shafter's educational philosophy, which values: Student Achievement, Self-Reliance, Efficiency, Competition, and Fairness," according to the Shafter Education Partnership's website. By 2020, the Center was hosting over 1,500 students every month, between classes, tutoring, and open study, and it was running out of room.
At the same time, GAF was looking for a way to engage the Shafter Community in our Community Matters initiative, which is focused on helping to build resilient communities. A key element of resilient communities is the next generation, and we can help equip them for success by bringing people together in shared spaces that enhance economic and social health.
Perseverance & Team Effort
More than 50 GAF employees worked alongside community members to understand the needs of the Learning Center and how, together, we could address those needs. Shafter team members led workshops in collaboration with community members and held conversations with community leaders which led to several ideas that would benefit the community. These included flexible classroom and meeting spaces, open outdoor areas, and a children's reading room.
Shafter Mayor Cathy Prout shared her appreciation for the collaboration on this project: "In 2019, GAF began talking to their employees and people around town about a gift for Shafter. They listened to us and decided they wanted to provide more space for the Library and Learning Center."
Through their combined efforts, GAF and PPS developed a plan for the space that would allow the Shafter community to come together and reconnect despite the challenges of the global pandemic.
When the planning was complete, GAF employees helped put the plan into action. No one knew just what the journey would look like. "I don't think any of us expected the next couple of years to be as difficult as they have been," said Prout. "No one expected a pandemic. No one expected construction costs to go up like they did. But through it all, GAF has stayed committed and been a true friend to Shafter."
Nevertheless, the team persevered. Through a series of volunteer days, many of which were part of GAF's paid Volunteer Time Off program, employees donated time for painting, planting, and other beautification efforts. The team got creative with resources donated to the space by using shipping containers as classrooms, hiring a local artist to paint murals, and using our pavement coating products in a decorative and colorful way. In a special effort to finish the space, our coatings team traveled from various locations to volunteer and apply the pavement coating themselves.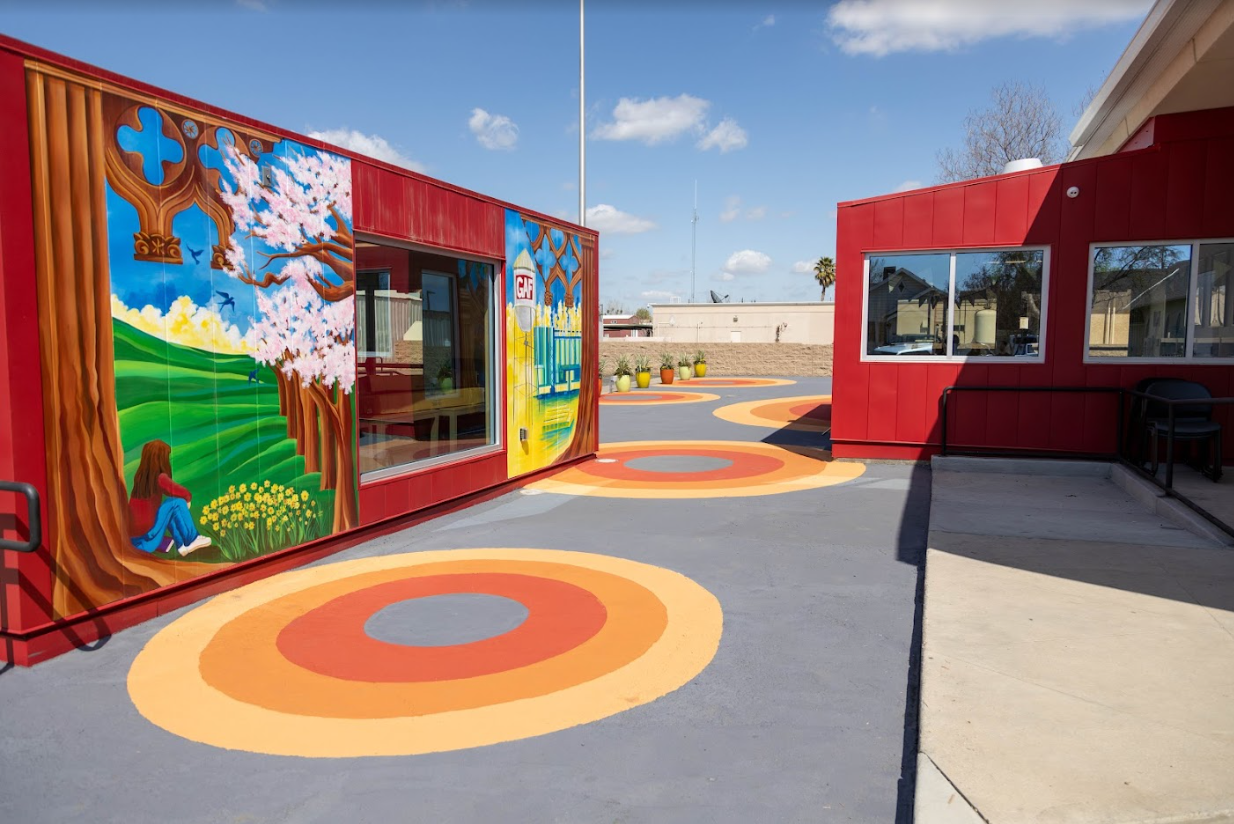 The center uses surrounding outdoor spaces as an expanded learning hub, providing more room for classes, gathering, and studying indoors and out. Another exciting addition is a children's reading room for families to safely learn and connect.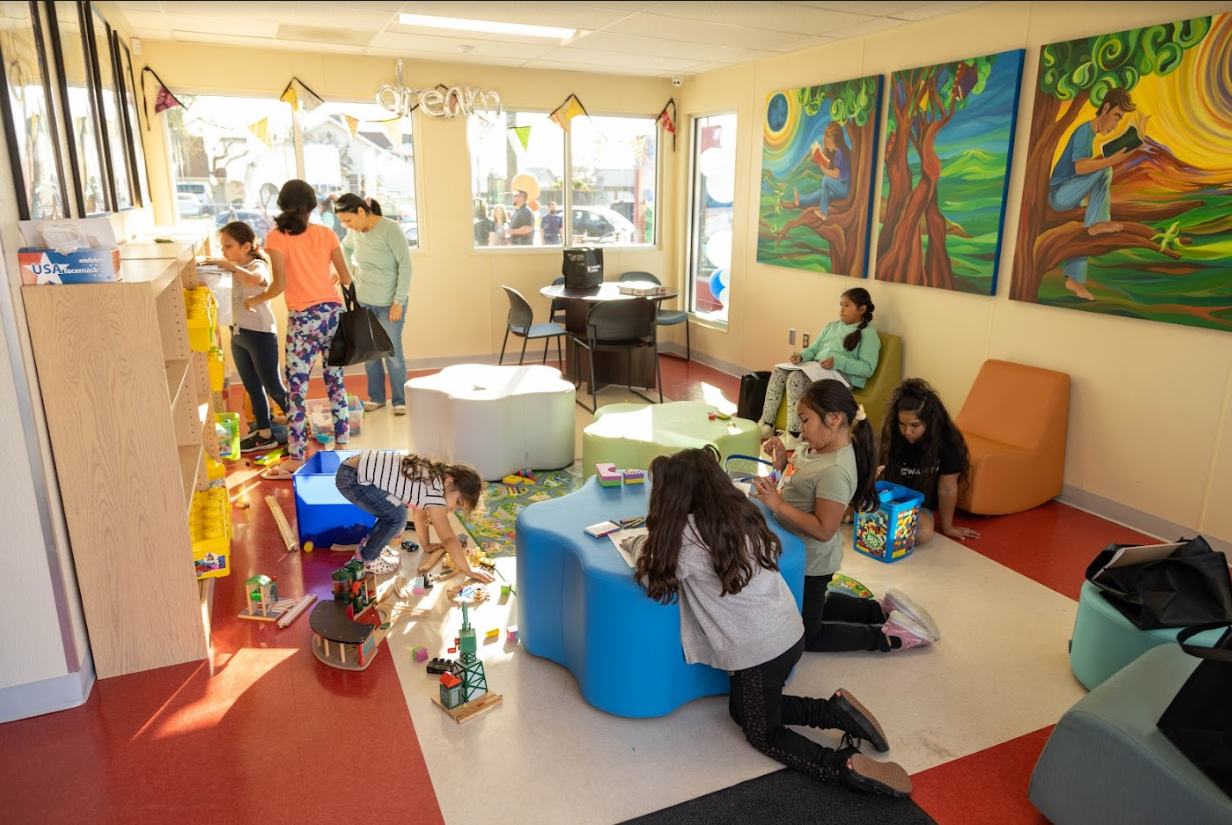 Prout appreciated GAF's commitment to the project. "They have delivered on their promise with an expansion to our library and a new classroom. They transformed this outdoor space into something beautiful and useful. They brought us these wonderful murals. We are thankful to GAF for this gift and thankful to have GAF as a member of our community."

Just One Step
The Shafter Learning Center is just one of many projects GAF is involved with as part of the Community Matters initiative. Community Matters focuses on making a positive difference as neighbors and partners by leveraging expertise, resources and products to help build resilient communities. We believe that resilience is the foundation on which we will build thriving, sustainable communities of the future.
We're proud to be a part of the Shafter community and are excited to continue to see the Shafter Learning Center grow and evolve in this space for years to come. To learn more about GAF's commitment to the communities where we live and work, visit gaf.com/communitymatters.