Team Rubicon, as noted on their website, "serves communities by mobilizing veterans to continue their service, leveraging their skills and experience to help people prepare, respond, and recover from disasters and humanitarian crises." So when the opportunity came to become a Team Rubicon Greyshirt and help people in need in the wake of recent natural disasters, the choice was obvious.
I joined Team Rubicon (TR) with several colleagues after their initial visit to GAF's site in Ennis, Texas back in May of 2019. I didn't know at the time what TR was truly about, but I knew that I would enjoy hanging with veterans and providing hands-on assistance directly to others in immediate need. Both of these experiences were enlightening for me and humbling, to say the least.
Helping in Houston
Our first operation in 2019 sent us to the FOB (forward operating base) in Houston for rebuilds still ongoing from Hurricane Harvey. It had been two years since the hurricane, and it seemed almost unfathomable that there was still a need for this kind of help. This mission had been going on for well over a year—as we found out, not all homeowners have insurance, and there are more people out there than we might think that take advantage of the already weakened and oppressed posing as construction contractors.
The neighborhood smelled of must and mildew. My teammate and I learned the Dos and Don'ts of tape and bedding of sheetrock for this second-generation family home. Working with vets, listening to them, and watching how they give respect to one another was awesome. These folks know some things we civilians may never know.
Later on, several of us went on a single-day operation—following a tornado that went through Dallas—to an elderly woman's home that sustained significant tree and roof damage. She was very thankful and appreciative of the effort, as she had no living family. By the time that day was over, all 11 teammates were exhausted but satisfied with the day's work.
A Hurricane During a Pandemic
The last TR tour, earlier this year, was Operation Crying Eagle in Orange, Texas. The area was recovering from Hurricane Laura, which had landed on August 20, and there was a huge need for roof tarpings, mucking (clearing debris), and sawyer detail (chainsawing). Since we were in the middle of a pandemic, the restrictions to work in teams were seriously spelled out and audited. There were 68 men and women coming together to help from all areas of the country—from San Diego to the Carolinas to Massachusetts.
Each day, began with a 6 a.m. wake-up call, followed by breakfast and then safety discussions at 7:15 from several leaders. We'd then break out into assigned Greyshirt teams, with each team assigned an observer to ensure we followed our COVID-related guidelines.
From there, every Greyshirt got their daily assignments with one thing in mind: 'Get ***t done.' Our Greyshirt team roofed and mucked homes for folks that did not have the means or physical ability to do it on their own. We completed work on about three homes per day. Homeowners were always very grateful to TR and the work we were on hand to provide.
Beyond the work itself, I took away several memories from these experiences. It was very fulfilling to know that you are helping people in need through a time that they had no control over. We felt very secure knowing that the voluntary leadership puts top priority on our safety as we "step into the arena." There was good fellowship with different people, all volunteering for the same purpose: to lift others up. And at the end of each day, we had a post-dinner debrief to discuss the accomplishments, objectives, and challenges of each team. We all took the chance to unwind after a hard, rewarding day's work.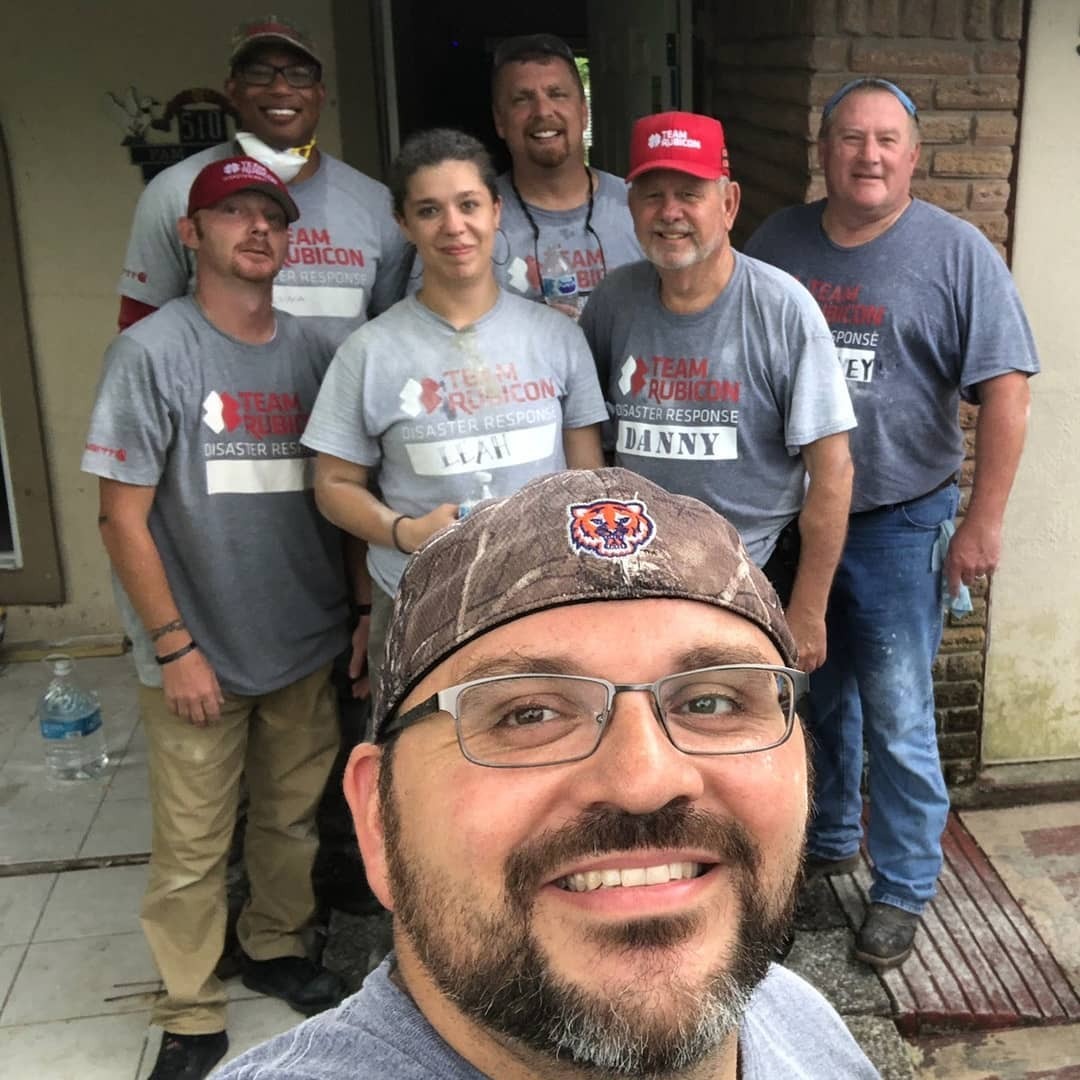 This was fun, challenging work where the motto was, "Everyone has a role. Know yours." Team Rubicon is a diamond class organization held together by volunteers—veterans and civilians—and respect at its core. For anyone who has the chance, I would say: Step into the arena!
If you're interested in getting involved, visit Team Rubicon's website to learn more and sign up to volunteer and earn your Greyshirt.