Shown here: The This Old House 2020 Cottage on the Cape Idea House features GAF Timberline® AH Shingles in Appalachian Sky which feature a blend of deep grays and browns for added dimensionality. Photo by Jared Kuzia.
When you're remodeling, buying, or selling a home, the character and condition of your roof can make a big difference. How much of a difference? Well, according to the 2019 Remodeling Impact Report produced by the National Association of the Remodeling Industry (NARI) and the National Association of Realtors (NAR), a new roof can pay back as much as 107% of its cost when it's time to sell a house. So, unlike many home-improvement projects, a quality re-roof can be a money-making investment.
But replacing your roof opens up a whole world of decisions. The most obvious question is, which shingles to choose? And how will that decision affect your home's curb appeal and its value? You'll want to consider the type of materials, as well as the design and color options. In this article, we'll explore the aesthetic side of the equation.
Location Matters
You might want to start by taking a look at the roofs of nearby homes and considering a shingle that fits well into the neighborhood and complements the style of your home. There's a reason you may see more earth-toned roofs in the southwest and greens and light gray roofs in the Pacific Northwest. They are blending in with their natural environments. Climate may play a role, too. Light colored roofs that are typically more prevalent in regions with warmer climates naturally reflect the sun's UV rays and may help make homes less expensive to cool.* In northern coastal climates, dark roofs may be chosen to better hide stains that can appear as a result of blue-green algae. But thanks to improvements in roofing technology, shingles of many colors can be constructed with blue-green algae resistance technology like GAF's StainGuard Plus™, which has specially engineered capsules infused with copper microsites that consistently release algae-fighting copper over time. And even some dark shingles now contain reflective granules that can help reduce utility bills.* So that means your color choice options are greater than ever.
Color Compatibility: Warm or Cool?
Amy Wax is a nationally known color consultant based in Montclair, New Jersey. Says Wax, "Choosing a roof shingle is not nearly as complicated as it seems, but it is a long-term commitment. So, I think people have to do a little homework and consider the implications of the roof color they choose."
"Generally, if I'm choosing a roof color, I start with, 'Is the color of the home in the cool family or the warm family? The colors should complement each other," says Wax. If you have a house that has a lot of brick, warm-colored stone elements, or is painted in taupes or beiges, I would choose a roof that is predominantly on the brown side. But if your home is painted in cooler blue or green or gray tones, I would recommend choosing a roof that is also on the cool side, meaning more gray or black than brown."
With careful selection, it's possible to get the best of both worlds, says Wax. "The most flexible is a roof color that has both warm flecks and cool flecks in the coloring. So, it has a little bit of warm, some speckles of cool, and the shingles themselves are gradated so that you have the benefit of both warm colors and cool colors. Then you can change your house color at any time and it won't matter."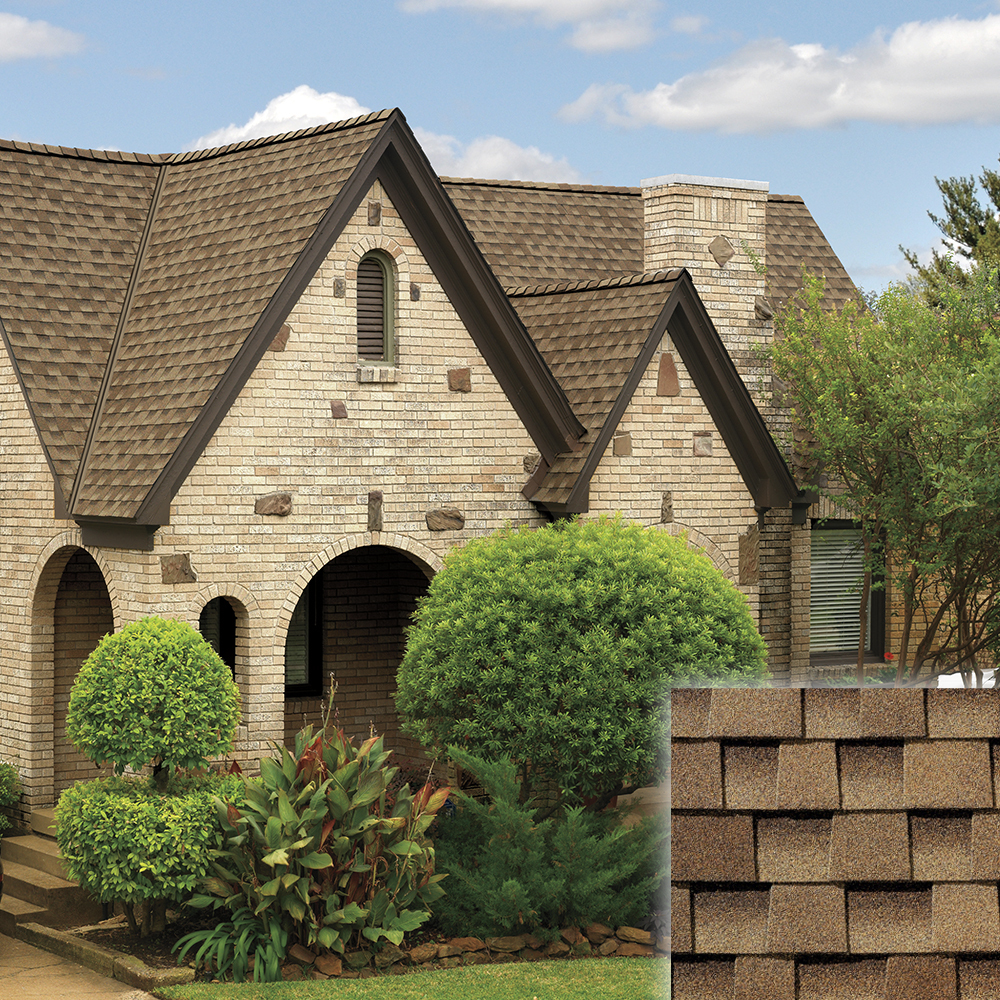 The earth tones of these GAF Timberline® HDZ™ shingles in Shakewood complement the limestone brick façade of this Tudor-inspired home in Texas. Photo: Courtesy of GAF
Architecture's Influence on Roof Color
"The roof should complement the style of the home so that they work together to create the best overall design," says Wax. "When you drive up to the home, you should notice the architecture first, and the color second."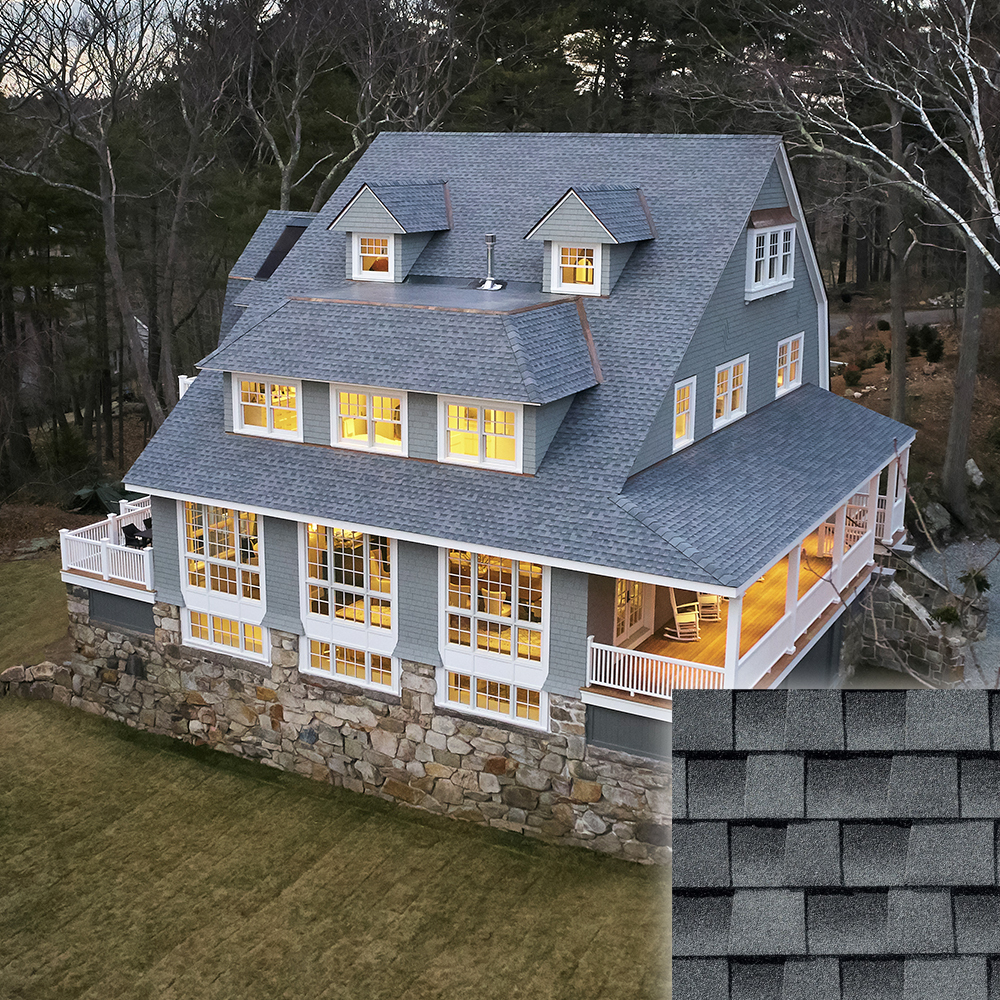 Monochromatic color schemes where the roof and paint color are similar shades accentuate the architectural and structural features of the home. Shown here: GAF Timberline® HDZ™ in Oyster Gray on the TOH Cape Ann TV project house. Photo by Jared Kuzia.
The massing of the roof—and how dominant it is in shape and scale as seen from the street—is another consideration. Says Wax: "For some houses there is as much roof as there is siding, viewed from the front of the house. I tend to not go with roofs that are too dark in that instance because it becomes too overpowering."
On the other hand, if you're planning on installing solar, nearly black shingles, like GAF's Timberline® HDZ™ shingles in Charcoal, complement the panels.
Pattern Play
Michelle Marceny is the lead color consultant for the Color Concierge, based in Broomfield, Colorado. In Marceny's experience, pattern is as much a factor as color when it comes to roof compatibility.
Patterns have their place, says Marceny; the trick is to avoid clashing. "Just like any design, whether it's interior or exterior," says Marceny, "you want to make sure that you only have one busy element. "If the home is sided in heavily textured or multi-colored stone or brick, I usually pick a pretty monochromatic roof color," she says. "GAF's Timberline® HDZ™ shingles in Pewter Gray is one of my favorite roofs to specify. The top of the shingles are colored a darker gray creating an enhanced shadow effect that doesn't compete with the patterns in the other hard finishes."
"Even for the pros, it's hard to get the colors right when you have two or more patterns to coordinate. But if you don't have stone or brick, then I would consider a roof with a stronger color pattern and texture."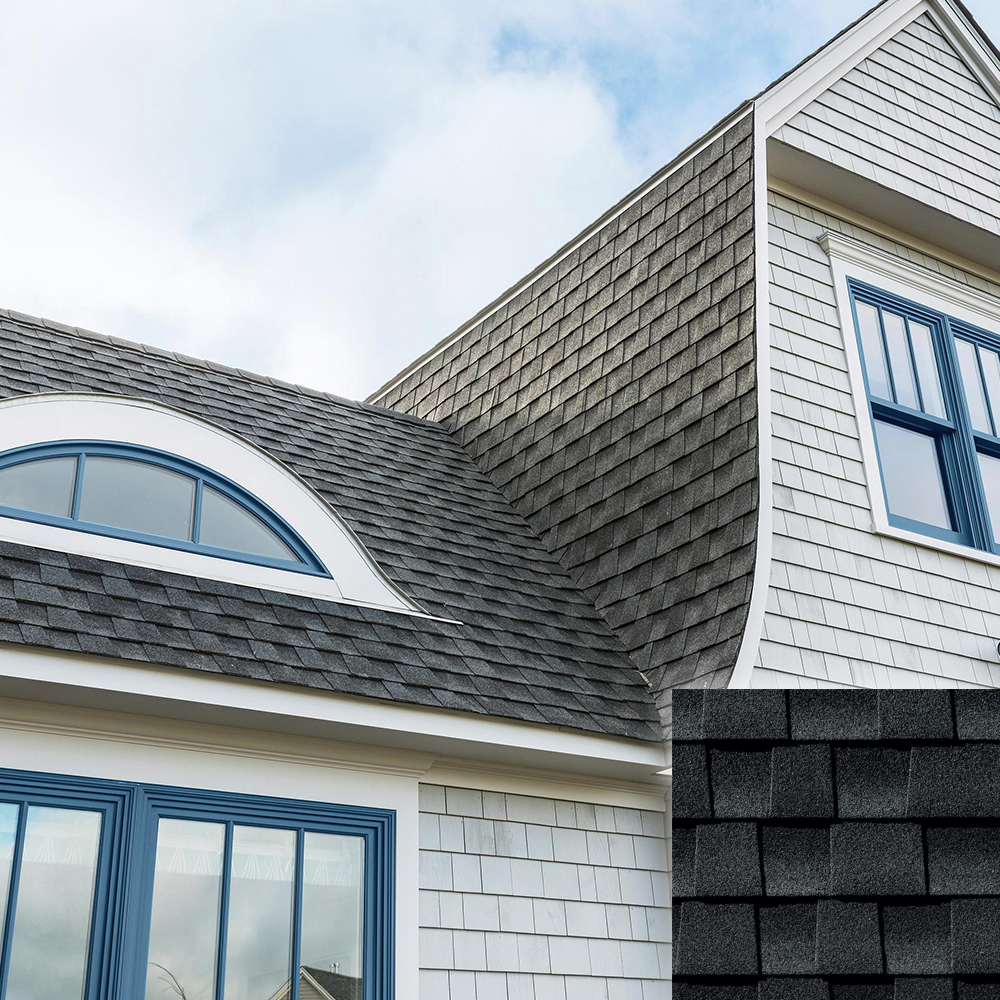 The enhanced shadow effect created by both the texture and variegated coloration of these Timberline® UHD Shingles in Charcoal create a wood-shake look that mimics the cedar shingle siding on this Rhode Island Beach House. Photo by Nat Rae.
Trending Now
White houses with black windows and roofs are a trend that seems here to stay. But recently homeowners have begun softening the look with wood trim accents and giving them personality with colorful roofs in deep red, hunter green and shades of blue.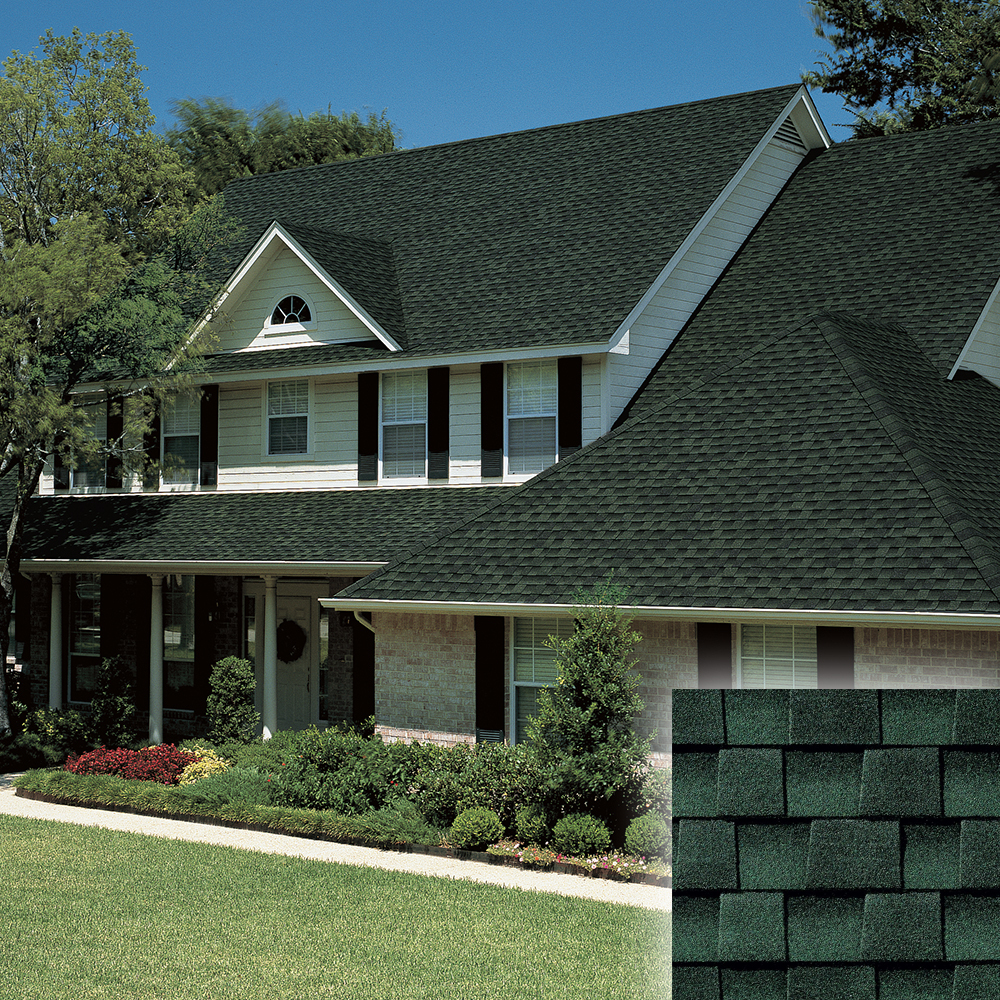 Shown here: GAF Timberline® HDZ™ shingles in Hunter Green have an architectural shadow effect that picks up the deep tones in window shutters and front door. Photo: Courtesy of GAF
While You're At It…
There's no better time to go solar than when you're getting a new roof! For solar panels with a sleek, low-profile that are designed to be installed directly onto your roof deck, check out GAF Energy. Over time, your solar can even pay for itself AND your new roof, via monthly electric bill savings and government incentives.
Want to explore your options? Check out GAF's Virtual Remodeler. Upload a photo of your house—or choose one of our model homes—and try on GAF shingle styles and colors along with siding, trim and doors to create the perfect look for your home. Keep in mind that it is difficult to digitally reproduce the full color clarity and actual color blends of these products. Before making your purchase, please ask your contractor or retailer to show you several full-size shingles so you can be sure your new roof matches your vision for your home.
* Energy cost savings are not guaranteed, and the amount of savings may vary based on climate zone, utility rates, radiative properties of roofing products, insulation levels, HVAC equipment efficiency and other factors.