When a building owner asks you if they need a commercial roof repair or replacement, your assessment of the roof's condition hinges on a few key areas. Veteran commercial roofing experts Dave Scott and Wally Brown share their roof inspection expertise in GAF's Roofing It Right with Dave and Wally: Roof Project from Start to Finish video series to help you assess the condition of critical areas on the roof.
Before your inspection, gather as much information about the roof as you can from the building owner. Some questions you may want to ask include: Do they know what the roof system is? What is the age and condition of the roof? Are they experiencing any leaks or damage? When was it last inspected or repaired, and what kind of traffic have they had on it? The more knowledge you have about the specific roof in question, the more equipped you will be to make a recommendation for the level of repair needed.
While talking to the owner in the first video The Master's Eye: Inspection, Dave and Wally discover they are examining a 20-year-old single-ply PVC roof—from there, they determine if the owner would benefit from either a roof repair or replacement.
Performing the Inspection
Dave explains in the video that he always starts inspections with safety. Once you access the roof, make a note of any areas with potential for concern—such as tripping or fall hazards, skylights, and roof edges—and take special care around them. Once your safety awareness routine is complete, you are ready to examine the following critical areas on the roof.
Seams: Seams are a vulnerable point. Over time, they can become loose and require attention, so they are always worth including in your inspection. In Wally and Dave's inspection, they noticed that the PVC roof in question had a seam repaired at some point using EPDM cover tape. That's a red flag, as repairs that were made with incompatible materials can cause the roofing system to degrade and fail prematurely.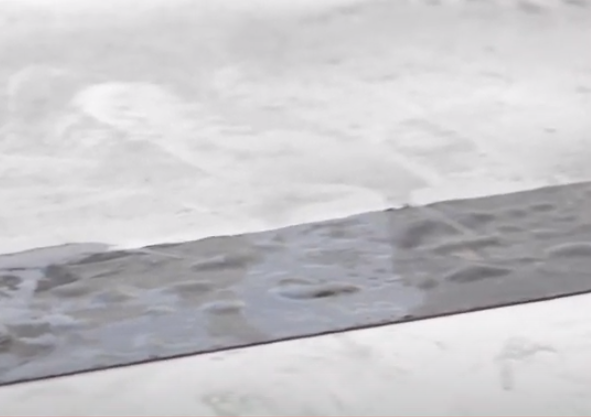 Equipment on the roof: Commercial rooftops house necessary equipment, including HVAC equipment, gas pipes, and exhaust fans. Take note of the condition of the supports for that rooftop equipment. In Dave and Wally's example, a modified plastic bucket served as cribbing for a rusty gas pipe running along the roof. The combination of exposure to the elements and extreme temperature changes create a perfect recipe for the bucket to deteriorate and allow the rusted pipe to come into contact with the membrane, creating the potential for more damage.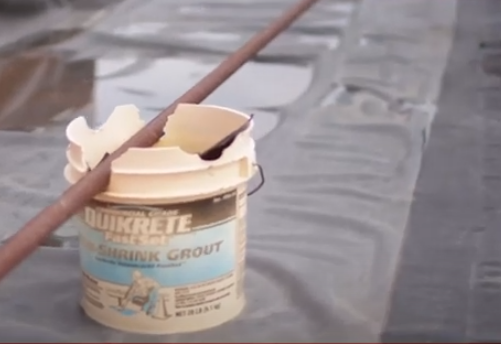 Drains: Are there areas of ponded water on the roof? Check the drains for clogged debris and ensure they appear to be in good working order. Keep in mind that even if a drain appears to be newer, it still needs to be installed correctly to carry the water off the roof of the building. During Dave and Wally's inspection, they found that the roof had a newer drain (pictured below), but it had been incorrectly installed over the improperly patched EPDM portion of the roof.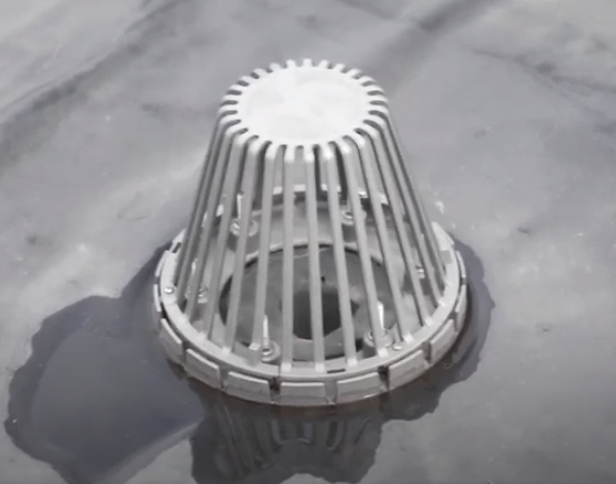 Flashing: Rooftop penetrations are often a point of water intrusion when flashings fail. Examine the condition of the flashing, and note whether the welds or fasteners are still secure. It should be easy to tell if there was a previous failure and if repairs were made.
Roof Repair or Replacement?
After your inspection, let the owner know whether they can fix their commercial roof or if they need to replace it altogether. It's important to help the owner consider the long-term value in their decision. If the roof needs many expensive repairs that will deliver only a few more years of service life, it's probably wise to recommend a roof replacement. On the other hand, if the issues are less complicated and can be easily addressed, roof repair may be a good way to give the owner time to budget and plan for roof replacement in the future.
As always, the experts at GAF are available to help you. Check out our resources for commercial contractors, and be sure to tune into the other Roofing It Right with Dave and Wally videos, which cover a wide range of commercial roofing topics including core cuts, tear-offs, tapered insulation, single-ply roofing tips and mistakes, TPO application methods, and more.