Specifying the right materials and assemblies for a low-slope roof system to satisfy a building's specific performance and safety requirements can be challenging. Even with design considerations in place, existing resources for finding applicable roof assemblies are limited in scope, functionality, and can feel disconnected. This is where the Directory of Roof Assemblies (DORA®) can help!
What is DORA®?
DORA® is a web application database of single-ply and modified bitumen roof systems tested in accordance with standards referenced in Chapter15 of the International Building Code for wind resistance. DORA® lists wind uplift load capacity for single-ply and certain modified bitumen roof systems.
Launched in 2018, this service was developed to be easily used by design professionals, roof consultants, code officials and other interested parties. Assemblies may be easily searched, viewed, saved, and printed. DORA® is sponsored by SPRI and administered by Intertek. This listing service is free to the public. The DORA® website can be found here at www.dora-directory.com.
Features
DORA® is the newest listing service to be included in MasterSpec® and features results for single-ply and modified bitumen roof systems that other listing services may not capture.
For example, roof decks and constructions that may not be available in other directories such as wood, gypsum, cementitious wood fiber, and panelized concrete roof decks. Also included are steel deck listings that are not span-limited.
Some additional features of DORA® include:
Independent 3rd party listing verification

Data submitted by participating companies along with supporting documentation validated and verified by independent 3rd party agencies

Assemblies stay up to date with scheduled verification and review

Revision date and all historical versions are retained

Innovative Searching

Smarter tools to find the assembly you need

Utilization of latest advancements in user-friendly search technology

Designed to be mobile-friendly

Real-time listing counter broken out by Listing Owner

Project Library

Allows the user to manage projects, assign DORA® assemblies, store documentation, collaborate, and share with your team

Saved Searches and Notifications

Save a search and get notifications for new assemblies meeting its criteria

Assemblies may be viewed, downloaded, printed, and stored

Ability to request an assembly that is not listed
How Does DORA® Work?
DORA® is the voluntary participation of industry companies. Roof assemblies are submitted by participating companies and are accompanied by supporting documentation in the form of test reports and qualified evaluations.
DORA® accepts supporting documentation from qualified accredited laboratories and certification bodies. All roof assembly submissions are reviewed and independently verified by the Program Administrator at Intertek before being published on the DORA® database.
Creating a user account is highly recommended, but not required. Without an account, previous searches will not be available to review.
Searching
Depending on the assembly you are trying to find, there are a few ways to search. For example, if you know the Listing Owner you want to use, you can narrow your search to only that manufacturer's assemblies listed (Fig. 1).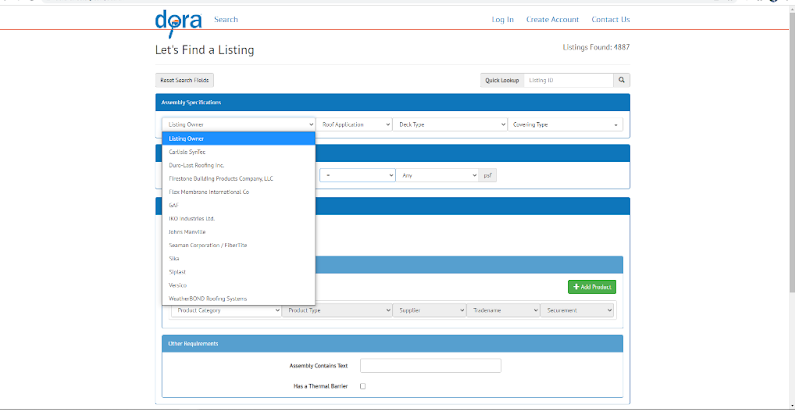 Figure 1: Listing Owner search
You can also filter your search by roof application, deck type, covering type, wind performance, etc. until you find assemblies that best fit your project specifications. In this example, the search results were narrowed down by choosing a GAF TPO membrane that was adhered-attached to a ⅜" minimum wood deck in a re-roofing application using a tested wind uplift load capacity >90 psf (Fig. 2).


Figure 2: Filtered search
By inputting your assembly specifications, the search field was narrowed down from 692 GAF TPO listings to only 10. The number of listings found is shown in the upper right corner of Figure 2. Users can find additional information about those 10 Listings by continuing to the next screens (Fig. 3). As you can see, this easy-to-use filtering feature saves tons of time and makes your searching a lot easier and efficient.
Figure 3: Search results
Now, all that's left is to choose the listing that fits best for your project requirements and specifications. With multiple options to either print preview, export to PDF or create a spec sheet, DORA® makes generating your assembly specification quick and hassle-free (Fig. 4). You can now save your roof listing documentation, collaborate, and share with your team.
Figure 4: Listing downloading options
Conclusion
Your search just got easier. With over 900 GAF listings in DORA®, chances are you will find the right assembly for your next roofing project.
Features such as innovative searching, an extensive project library, and unique roof decks and constructions not available in other directories make DORA® an easy to use resource for finding wind tested systems.