Contrary to our brand name, This Old House is not only about old houses. Yes, we do focus on rehabilitating and restoring old homes on the beloved PBS television show, This Old House. But we also build new homes as part of the annual TOH Idea House franchise, a program designed to showcase the best in new building products and technologies.
Whether building new or restoring a classic, the goal is always the same: to build better, smarter, and safer. With half-a-dozen TOH homes currently protected by GAF roofs, it's safe to say that GAF products perfectly align with that mission. Each of the homes we're about to show you posed a specific roofing need, from safety codes to design aesthetics. Read on to find out how we solved for these particular needs, and learn more about which roofing materials might be right for your home.
Peace of Mind in Paradise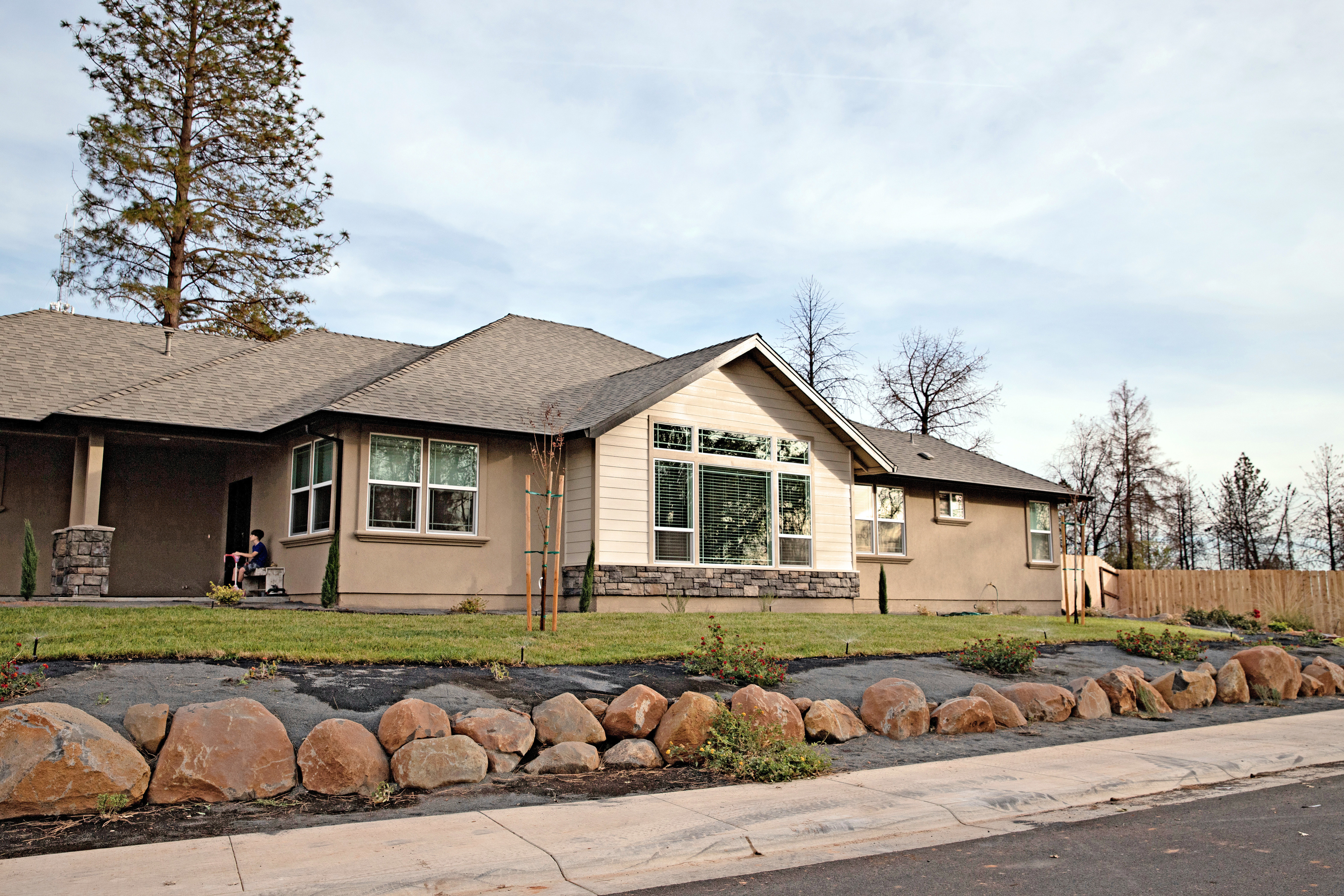 Shown here: TOH Idea House in Paradise, California, featuring GAF Timberline HD Reflector Series shingles in Charcoal. Photo by Emily Nathan for This Old House.
On November 8, 2018, the town of Paradise, California, was home to the worst wildfire in CA history. Over 14,000 homes were completely destroyed. This Old House was proud to join forces with a handful of these families, eager to return to the hometown they love. But rebuilding here could not just be about building new houses—the homes had to be safer, more efficient, and more sustainable.
According to CA building codes, roofs must be "Class A rated," meaning fire cannot pass through. This Old House turned to GAF's Timberline HD Reflector Series; these shingles feature the highest roofing fire rating available (UL Class A, Listed to ANSI/ UL 790) to prevent fire penetration and give those inside critical time to escape to safety. These shingles also comply with Title 24 Cool Roof Requirements; the innovative granule technology keeps the roof temperature cooler by reflecting the incoming sun rays, reducing the heat absorbed into the house and attic—which can translate into savings on air-conditioning bills.1
Achieving Authenticity in Westerly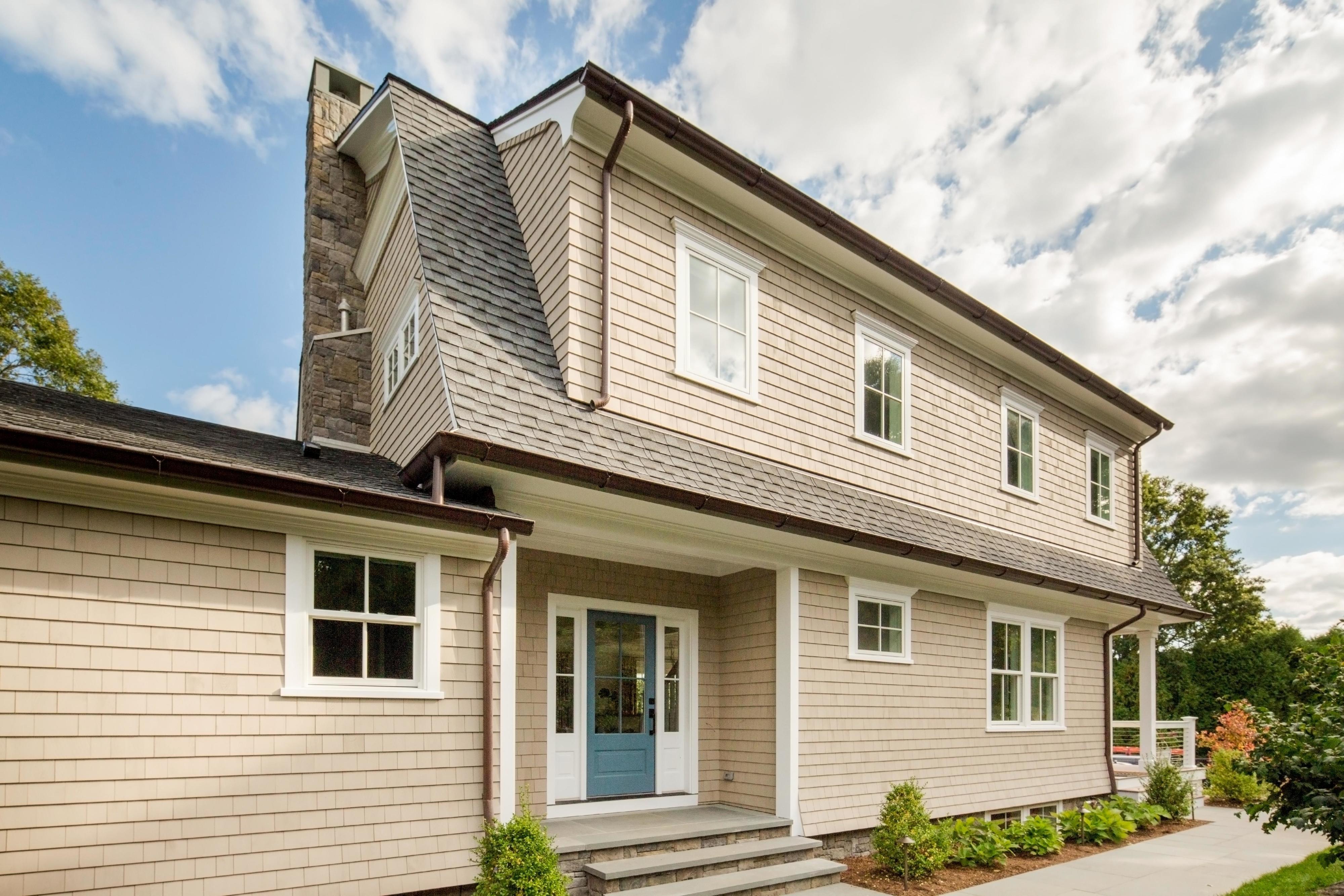 Shown here: TOH Westerly TV project home, featuring GAF Timberline® UHD™ Shingles in Pewter Gray. Photo by Anthony Tieuli for This Old House.
At the TOH Westerly TV project, a 1940s ranch was completely transformed into an updated Dutch Colonial revival, topped with a sweeping gambrel roof. Here, the original roof was disassembled to build a second level, adding about 1,000 square feet of living space.
The homeowners wanted a traditional, shingle-style look, and opted for a classic exterior package that included white window trim, wood-shake shingle siding, and architectural roof shingles. Timberline® UHD™ Shingles (shown here in Pewter Gray) feature proprietary shadow bands that are applied using a sophisticated, computer-controlled "feathering" technique. When combined with a randomly blended top layer, the result is an authentic wood-shake shingle look with exceptional depth, contrast, and dimension for a striking finish and a warm, sunset glow all hours of the day.
Efficiency and Accuracy at Cape Ann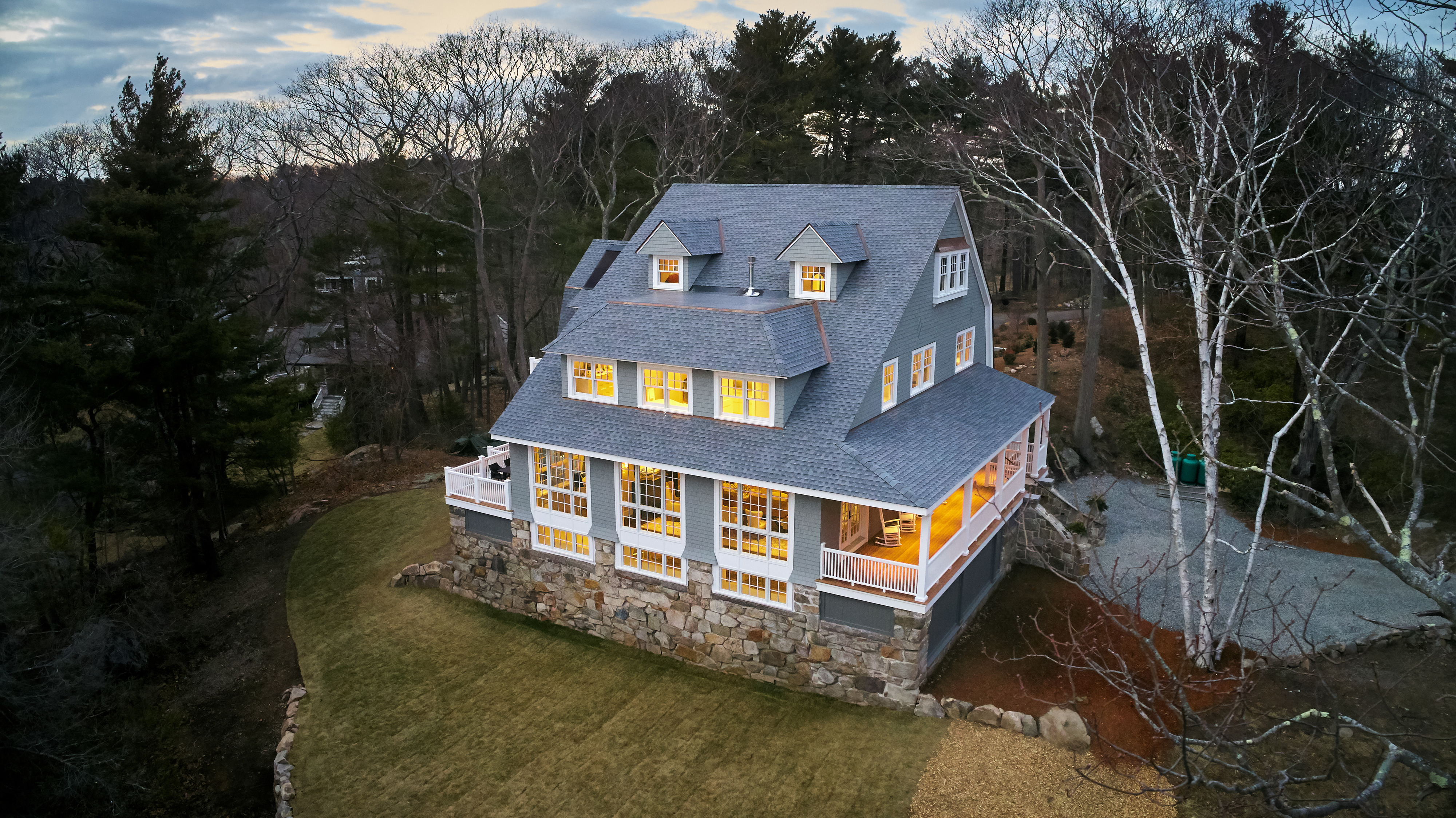 Shown here: TOH Cape Ann house featuring GAF Timberline® HDZ™ Shingles in Oyster Gray. Photo by Jared Kuzia for This Old House.
For its 41st season, This Old House took on an 1891 shingle-style home in Manchester, Massachusetts that needed a roof that would appear authentic to the home's original style. And there was a whole lot of roof to cover. Says builder Charlie Silva: "This was a huge project–nearly 6,000 square feet–so we needed to be super-efficient with our time without sacrificing quality." GAF's Timberline® HDZ™ roofing shingles provide LayerLock™ technology and a wider strike zone, allowing shingles to be installed 30% faster and more accurately2.
An added benefit for homeowners in a coastal climate like this? When installed with the required combination of qualifying accessories, Timberline® HDZ™ Shingles qualify for the WindProven™ limited wind warranty—the industry's first wind warranty with no maximum wind-speed limitation.3
Algae Protection at the TOH Farmhouse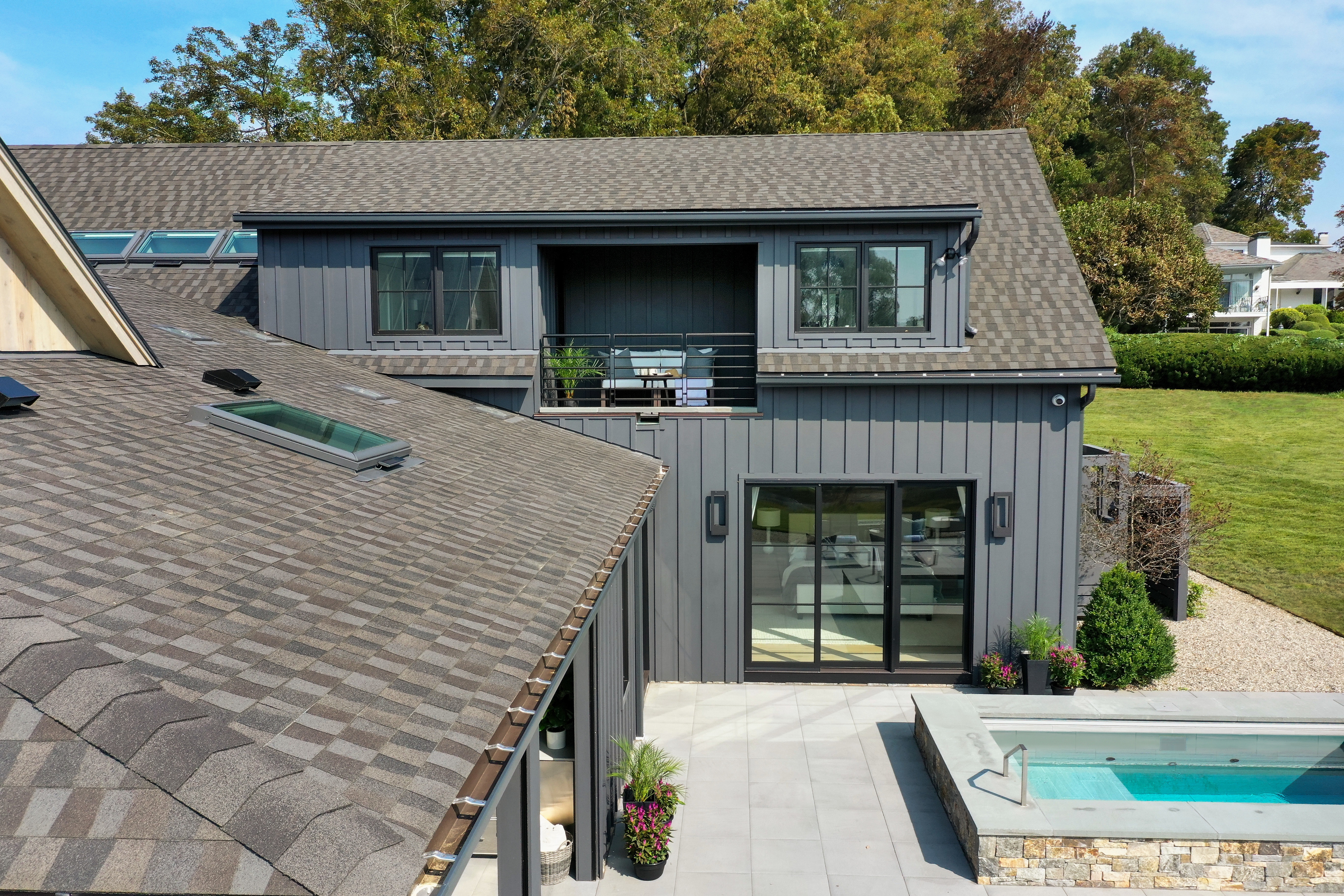 Shown here: TOH Farmhouse featuring Timberline® American Harvest® shingles in Appalachian Sky. Photo by Nat Rea for This Old House.
Weather and salt air can wreak havoc on a home, and no one knows that better than Jerry Effren, builder of the TOH 2020 Farmhouse in Fairfield County, a modern farmhouse overlooking the Long Island Sound. Having built plenty of homes in this fluctuating, four-season climate, Effren says "We know from experience that high-quality exterior building products are worth the investment to ensure a beautiful, long-lasting home."
Since coastal areas tend to be more humid, this climate creates the perfect environment for algae to thrive. While it's not dangerous and won't make you sick, it can cause unsightly dark streaks and affect the appearance and resale value of your home. Timberline® American Harvest® shingles are loaded with both LayerLock™ Technology and proprietary GAF StainGuard Plus™ Time-Release algae fighting technology.4 Featuring specially engineered capsules that release algae-fighting copper over time, these shingles offer a 25-year limited warranty against blue-green algae discoloration. Says Effren of the finished project, "We're thrilled with the depth of color and texture of these shingles, and it's great to know we can count on them to look beautiful for years to come."
Protection from Harsh Weather on the Cape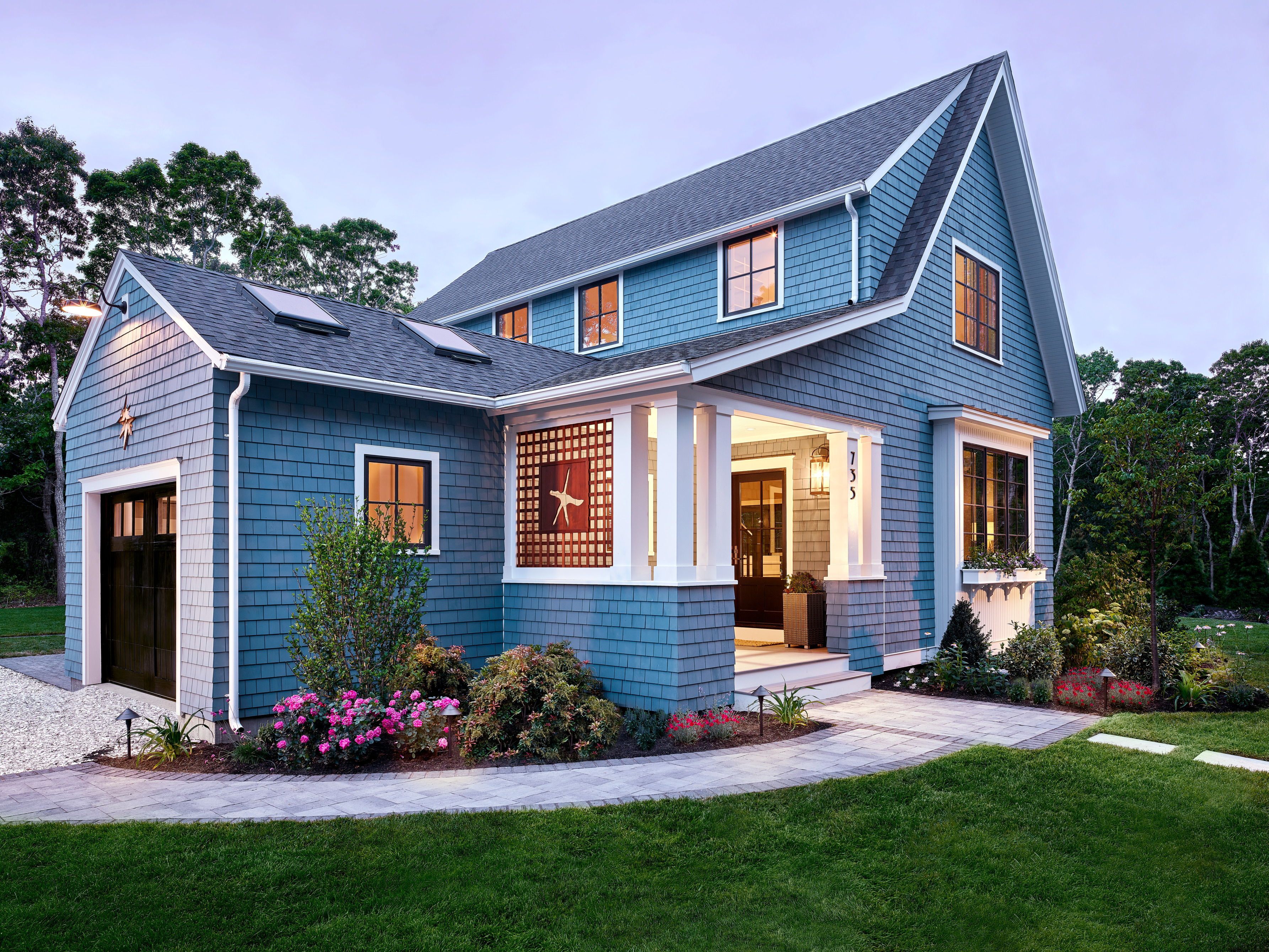 Shown here: TOH Cottage on the Cape Idea House featuring Timberline® American Harvest® shingles in Appalachian Sky. Photo by Jared Kuzia for This Old House.
The TOH 2020 Cottage on the Cape is located in Eastham, MA—just a stone's throw from the coast, and susceptible to high winds and driving rain. GAF's Timberline® American Harvest® line of shingles was chosen specifically to meet these challenges. The proprietary LayerLock™ technology and Dura-Grip™ Sealant work together to give each shingle the strength, durability, and increased wind uplift performance it needs to withstand harsh coastal New England weather. And the professionally designed color palette features subtle blends of contrasting colors for sophistication, warmth, and dimension.
Historical Accuracy in New Canaan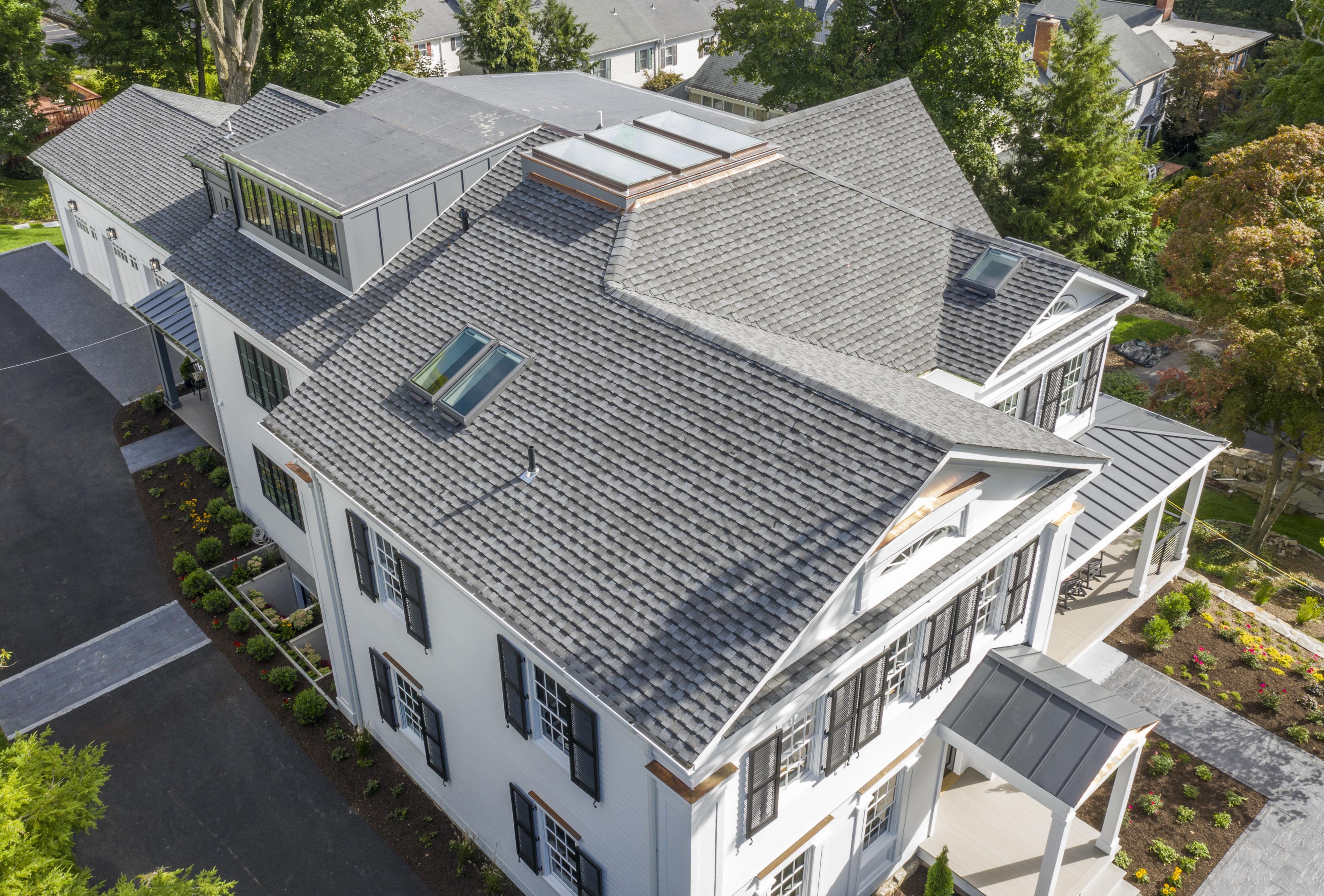 Shown here: TOH New Canaan Idea House featuring Timberline® UHDTM Shingles in Pewter Gray. Photo by Nat Rea for This Old House.
With only a few sections of the façade and northwest corner of this stately 1840's home salvageable, the award-winning builders of KARP Associates had their work cut out for them when planning the TOH 2019 Idea House. In a historic district like New Canaan, CT, every decision—scale, orientation, materials, roof projections—must be approved by the local Historic District Commission to ensure accuracy, preservation of character, and integrity.
The original 1800s roof on this Greek Revival was undoubtedly made of cedar shakes, which had been replaced time and again. KARP wanted to replicate the textured look of wood shakes with a longer-lasting shingle that requires a lot less maintenance. GAF's Timberline® UHDTM with Dual Shadow Line Shingles fit the bill beautifully, and met the high standards of the Historic Commission. Up to 53% thicker than standard architectural shingles5, Timberline® UHDTM Shingles feature GAF proprietary color blends and enhanced shadow effect for an ultra-dimensional wood-shake look.
If you're considering a new roof and want to explore options that suit your home's style and location, visit gaf.com and check out GAF's Virtual Remodeler. You can also consult a roofing professional certified by GAF by clicking, here.
1Potential for savings depends on various factors including, but not limited to, radiative properties of shingles installed, climate zone, utility rates, location, and HVAC equipment efficiency. For the radiative properties of each shingle, visit the CRRC's Rated Products Directory at coolroofs.org/products
2Results based on study conducted by Home Innovation Research Labs, an independent research lab, comparing installation of Timberline HD® Shingles to Timberline® HDZ™ Shingles on a 16-square roof deck using standard 4-nail nailing pattern under controlled laboratory conditions. Actual results may vary.
3 15-year WindProven™ limited wind warranty on Timberline® HDZ™ Shingles requires the use of GAF starter strips, roof deck protection, ridge cap shingles, and leak barrier or Cobra® Attic Ventilation. See GAF Roofing System Limited Warranty for complete coverage and restrictions. Visit gaf.com/LRS for qualifying GAF products.
4 StainGuard Plus™ algae protection is available only on shingles sold in packages bearing the StainGuard Plus™ logo. Products with StainGuard Plus™ algae protection are covered by a 25-year limited warranty against blue-green algae discoloration. See GAF Shingle & Accessory Limited Warranty for complete coverage and restrictions
5Comparison refers to Timberline HD® Shingles. Thickness varies by plant; see actual shingles for comparison.