Do your customers understand the value of a complete roofing system? Installing a complete roofing system, with shingles and accessories designed to work together, may not always be the cheapest option. However, here are some of the key reasons why it might be the best option. Installing full systems will get you the sale, and give the homeowner added peace of mind.
Shingles & Accessories Specifically Designed to Work Together
Roofing a residential home involves a lot more than just installing high-performing asphalt shingles like Timberline® HDZ™ shingles. A complete roofing system provides layers of protection against the elements and severe weather. Installing components made by multiple manufacturers can be risky: if the layers were not designed to work together, then mixing and matching them may lead to future problems.
You can use GAF digital resources to walk through each product that makes up GAF Lifetime* Roofing System. You can start at the deck and review the importance of the underlayment. Then you can point out vulnerable areas on the roof that may need leak barriers. When you get to starter strips, you can show the homeowner where they're installed and explain how these shingles contain a strategically placed adhesive strip that seals and locks the shingles in place to help prevent blow-offs. Finally, hip and ridge shingles provide additional protection at the areas most susceptible to wind and water penetration. Most importantly, point out that these products have been designed to work together to give homeowners peace of mind.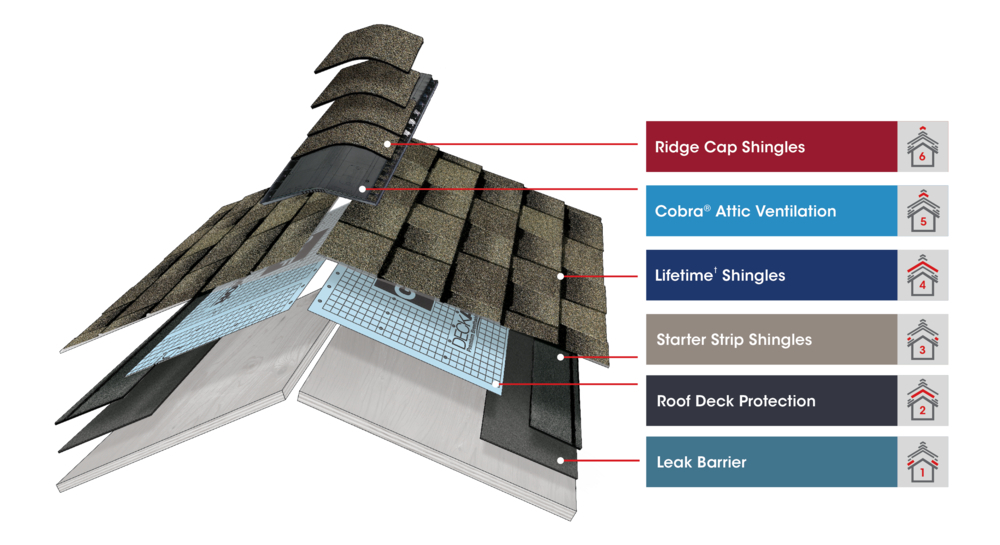 Enhanced Warranty Coverage

Many roofing manufacturers offer enhanced warranty coverage to homeowners who elect to install a complete roofing system (or some combination of shingles and accessory products). For example, when you install any qualifying GAF Lifetime* shingles plus three qualifying GAF accessory products, you are automatically eligible for the GAF Roofing System Limited Warranty*, which provides a Lifetime* warranty term not only for the shingles, but for the qualifying GAF accessory products as well.
In addition, if you install GAF Timberline Shingles with LayerLock Technology, plus GAF starter strips, roof deck protection, ridge cap shingles, and your choice of leak barrier or attic ventilation, you are eligible for the WindProven Limited Wind Warranty**, an industry first limited wind warranty with no maximum wind speed limitation. That means that no matter how fast the wind blows, the warranty provides coverage for shingle blow offs. According to The Insurance Information Institute, over a five-year period, wind and hail were collectively the top cause of home damage—with an average repair cost of nearly $14,000. Regardless of where in the country your customers live, they may be at risk of wind damage. The National Severe Storms Laboratory reports that damaging winds from thunderstorms account for over half of all property damage throughout the 48 contiguous US states.
By choosing a complete roofing system made up of Timberline shingles with LayerLock Technology and the required combination of GAF accessory products, your homeowners receive the highest level of performance and warranty protection available. You can start highlighting the value today by reviewing these resources, and requesting a free digital selling kit. This kit is packed with presentation templates to help you educate your customers.
*The word "Lifetime" means as long as the original owner(s) [or the second owner(s) if coverage was properly transferred during the Smart Choice Protection Period], own the property where the shingles and/or accessories are installed. The Lifetime warranty is applicable only to shingles and accessories installed on a single-family detached residence owned by individuals. For any other type of owner or building, such as a corporation, governmental entity, religious entity, condominium or homeowner association, school, apartment building, office building, or multi-use structure, the length of the warranty is 40 years. See GAF Shingle & Accessory Limited Warranty and GAF Roofing System Limited Warranty for complete coverage and restrictions. Visit gaf.com/LRS for qualifying GAF products.
**15-year WindProven™ limited wind warranty on Timberline® Shingles with LayerLock™ Technology covers shingles only and requires the use of GAF starter strips, roof deck protection, ridge cap shingles, and leak barrier or attic ventilation. See GAF Roofing System Limited Warranty for complete coverage and restrictions. Visit gaf.com/LRS for qualifying GAF products.