You can change the world by helping your neighbor, and the folks at JF Lopez Roofing are living proof. In partnership with the GAF Habitat for Humanity Contractor program, the company — based in Fond du Lac, Wisconsin — pledged what it calls the Legacy 100: the goal of installing 100 roofs on Habitat for Humanity homes over 10 years. With roof number 55 completed by the close of 2022 and more slated for 2023, these roofing heroes are already more than halfway there.
Creating a Stronger Community
"Creating a legacy of which our grandchildren will be proud" is the founding principle behind JF Lopez Roofing. Honoring this, the company's Legacy 100 project is working toward a goal that future generations will remember and appreciate.
Committing to 100 roofs over 10 years is a sizable pledge, but co-owner Mark Bartolutti wants to be present when that 100th roof is completed. Achieving that means installing an average of 10 roofs per year. It's a significant push, but "it sends a message to our employees—to everyone, really—to do what is right. It brings our company statement to life," says Mark Bartolutti, co-owner at JF Lopez Roofing.
People partner with Habitat for Humanity to improve or build a place they can call home. Future homeowners invest hundreds of hours of sweat equity to help build their own homes, which gives them the opportunity to build a more stable, healthier, and secure future for themselves and their families.
JF Lopez donated its 50th roof to the Chang family, who were thrilled with their new home. The Chang family has nine children and arrived in the US in 1980 as refugees. As they told program representatives: "Thank you for giving us an opportunity to grow up in our own home. From the bottom of our hearts, we would like to thank all those who helped make our dream of home ownership a reality."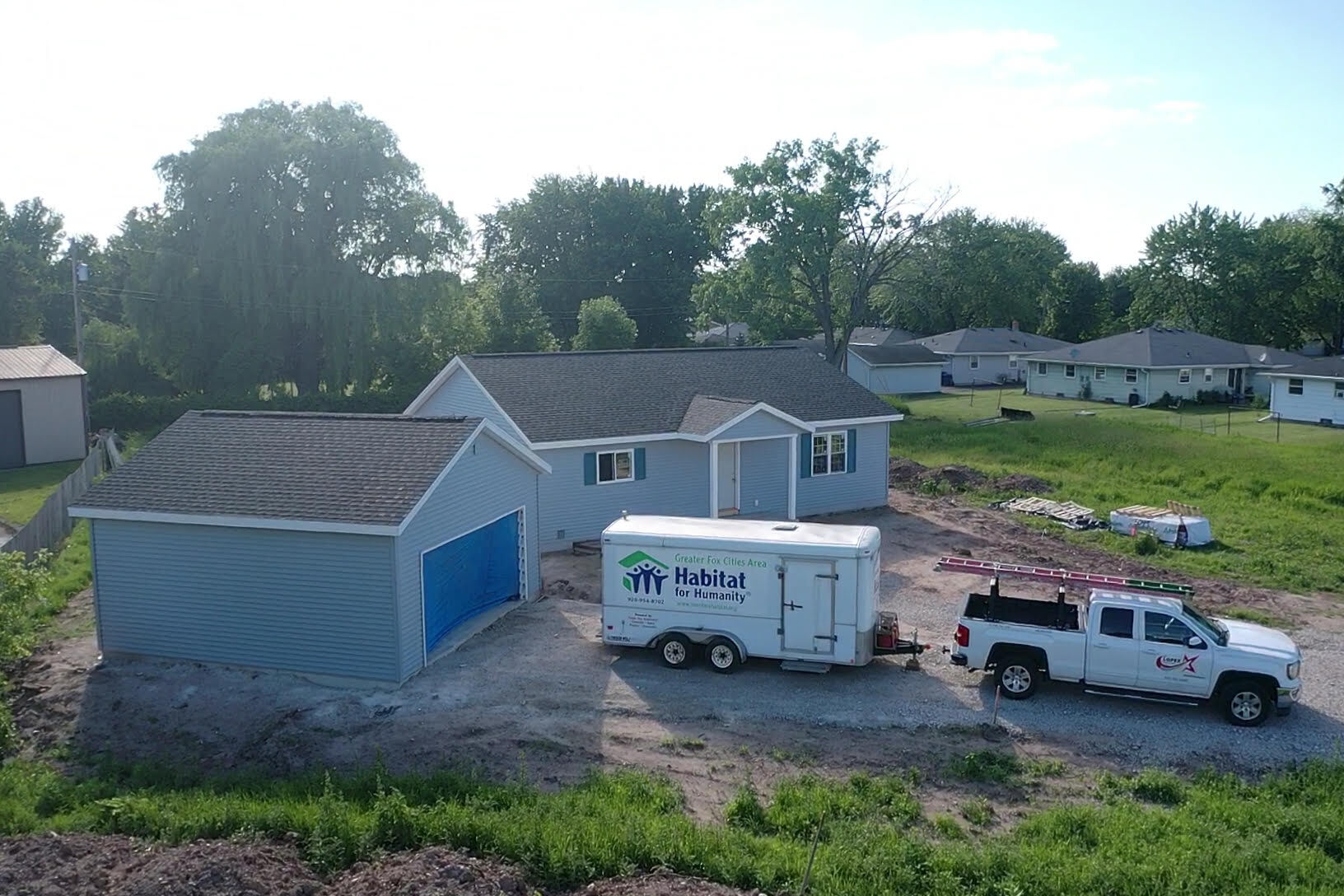 Building a Better Business
Installing a roof takes time and talent—but the more JF Lopez Roofing gives, the more it receives. Since the company began the Legacy 100 pledge, it has averaged 30% growth per year. However, at the end of the day, donating roofs "isn't about making a dollar; the benefit is internal," explains Frank Lopez Co-Owner.
That said, the company's growth aligns with evidence that customers do consider the social impact when selecting products and services. What's more, 71% of contemporary consumers say they will pay more for socially conscious services. Although money may not be the motivation behind the Legacy 100 pledge, other roofers can take note of the company's well-deserved public accolades for its community service.
To account for its growth, JF Lopez Roofing points to the team's dedication to each job. When it comes to charity efforts, Mark explains, "We tell the crew, 'let's see your best work; don't cut corners on the job.'" The company wants to set an example "so we can always say we put our best effort in and that we follow through," he continues.
Getting the Team Involved
Teamwork is essential to accomplishing a large-scale goal like the Legacy 100. Fortunately, JF Lopez Roofing has all hands on deck and is dedicated to getting the job done well.
Frank ensures the company's budget gives them the opportunity to give back. Destiny Rust gathers information to help co-owner Mark decide what they can give to each Habitat affiliate based on the level of need in the community. Mark then creates estimates and material lists for committed projects. Next, Emily Maas schedules deliveries and coordinates the crews. Finally, Candace Smith helps gather material lists and receipts for internal, GAF, and Habitat for Humanity records.
As Candace explains, "It's good to be a part of something that helps others. Everyone deserves a home and a safe place to live."
Keeping Everyone Engaged
The team keeps spirits high throughout such a long-term goal by participating in events and celebrating successes together. The whole office has met Habitat homeowners at fundraisers, wall-raising ceremonies, and other Habitat events.
"We hosted our 50th roof install with GAF just recently," said Destiny. "Frank was grilling burgers and brats." They invited the homeowners as well as volunteers and Habitat representatives to the site while they worked. To memorialize the occasion, the team created a time capsule out of a piece of underlayment that was installed on the house and shingled over.
"Everyone present that day left their mark," says Destiny.
Partnering with GAF
Partnering with GAF is a win for both companies. Since opening JF Lopez Roofing in 2013, co-owners Jose Frank Lopez and Mark have used GAF products. They chose GAF because the company fit well with their values and beliefs. Just two years after starting their company, they began donating roofs. Then, in 2017, the company earned its GAF Master Elite® certification*, further cementing its position as a community leader. As part of the certification, crews receive yearly training and the ability to offer outstanding warranties to their customers.
When the company donates roofs as part of the GAF Community Contractor Program, "GAF will actually credit us for the GAF brand material we ordered," says Destiny. The program was created to help GAF-certified roofers give back to local families in need.
For both business and charity, JF Lopez Roofing works closely with GAF territory representative Joe Hughes. As a representative, "Joe is there for guidance, and he's part of the reason we're able to donate 10 roofs a year," said Destiny.
Plenty of teamwork, love, and effort goes into the Legacy 100 project, but all that hard work is why JF Lopez Roofing has earned the title of GAF Roof Raiser. With each roof, they help improve lives for generations to come—a legacy to be proud of.
Want to get involved with GAF and their Community Matters initiative? Reach out to your local Territory Manager and ask about the Community Contractor Program. Your company can help change the world, one roof at a time.
*Contractors enrolled in GAF certification programs are not employees or agents of GAF, and GAF does not control or otherwise supervise these independent businesses. Contractors may receive benefits, such as loyalty rewards points and discounts on marketing tools from GAF for participating in the program and offering GAF enhanced warranties, which require the use of a minimum amount of GAF products.