Have you ever considered a career in the manufacturing industry? You might be surprised at the opportunities, benefits, and sense of pride that come from making products that are vital to our economy and our day-to-day life.
At GAF, we produce roofing products and systems. Our team has a true sense of pride in manufacturing products that safeguard families and businesses. We get excited when we drive past a job site and see our materials being installed on a home or a business because we know that our work aligns to a bigger purpose: at GAF, We Protect What Matters Most.
The Modern Manufacturing Industry
Manufacturing facilities are a critical component of our country's economy, producing the goods we rely on every day to live our lives comfortably. From cars and furniture to construction and roofing materials, the demand for manufactured products is expected to continue rising. This increase in demand leads to a demand for talent. In fact, it's been estimated that there will be 2.4 million unfilled manufacturing jobs from now until 2028!
Over the last 10–20 years, the industry has evolved to outgrow the old stereotype of eight-hour shifts on the assembly line in a dark factory. Modern manufacturers such as GAF leverage automation, robotics, data collection, and enhanced quality control measures to improve their operations. These and other technological advancements bring an element of excitement and challenge to the job each day.
Our manufacturing employees are always driving improvements in our facilities and aiming to make our processes as efficient as possible. This passion for progress is infectious and can be felt at every level. During a recent visit I made to one of our plants, the team members were heavily involved in Kaizen™, a practice for following lean production principles to achieve continuous improvement.
This project brought together forward thinking employees to collaborate, brainstorm, recreate, and implement changes to increase efficiency of our processes as well as our team members. I observed team members experimenting with new line layouts, reducing extra work, creating a better workflow, and improving ergonomics. The group had a mantra: "No Piles!" In the process they were working to improve, operators would pull parts from very large containers, making it difficult for them to quickly grab what they needed. By improving the presentation of the parts at multiple workstations, the team made their work safer and easier.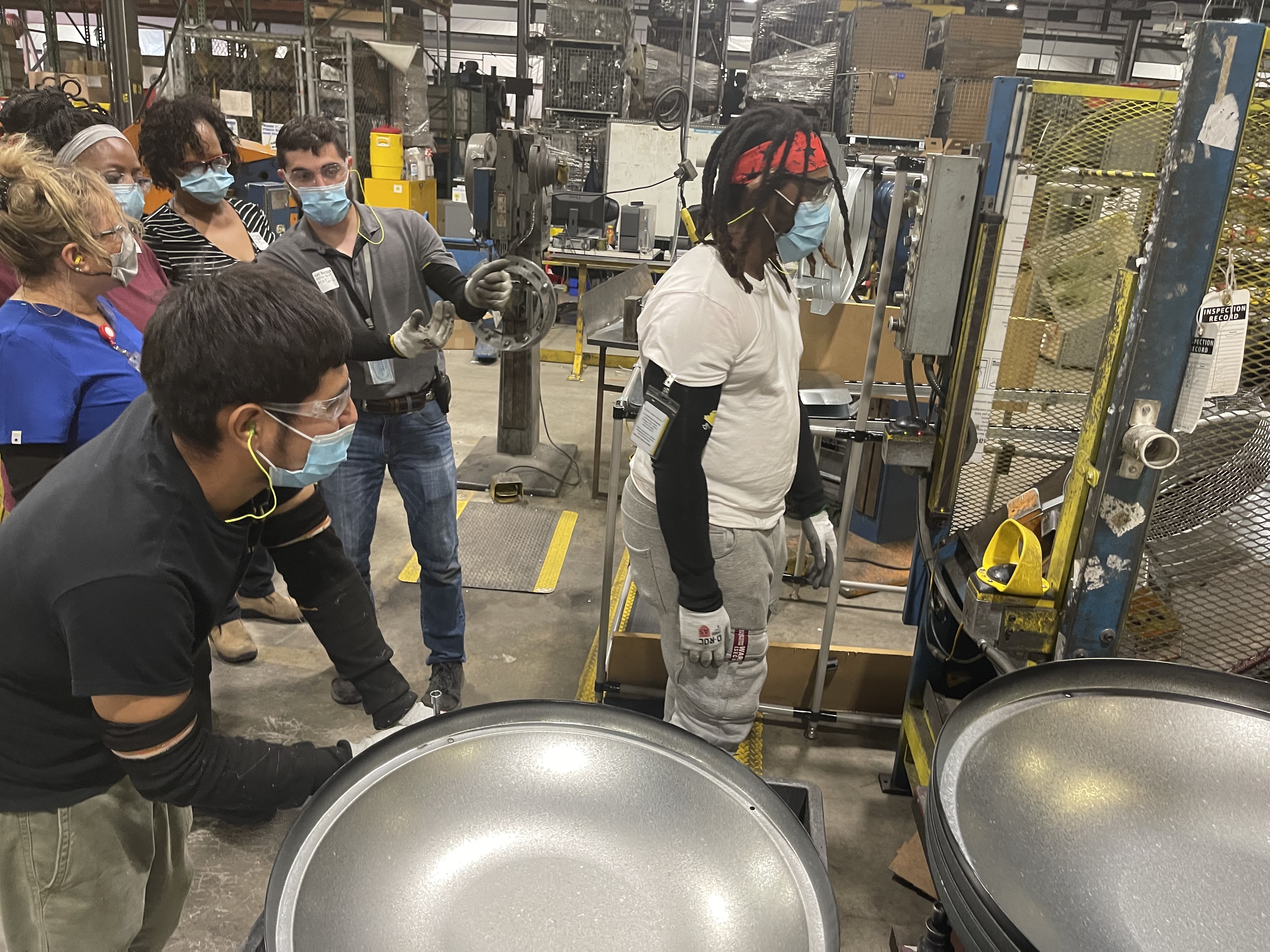 Manufacturing employees in GAF's Burgaw, North Carolina plant implementing their ideas

One of my favorite parts of the Kaizen process is called "Try-Storming." Employees select ideas from their brainstorming sessions and put those ideas into action. Using time studies and operator feedback, the group refined and ultimately implemented their improvements. Because of these efforts by our team members, the department is already showing a daily 15-27% increase in efficiency. It was inspiring to see how much effort and enthusiasm the team put into the success of their product line, their plant, and the company.
More Than Just a Paycheck
The marketplace is tremendously competitive for manufacturing staff, including hourly workers, and there is no shortage of options for places to work. At GAF alone, there is a broad network of manufacturing plants employing thousands of workers.
People who are drawn to our company want to make something and see the results of their work. I've seen a tremendous amount of pride among our team members in producing the high-quality materials that GAF manufactures. The contractors who sell and install GAF products also acknowledge the hard work and effort that goes into producing the best roofing products available. In a video from a customer event called WealthBuilder, one of our plant personnel, Will Young, who has been with GAF for nearly 15 years, was able to meet contractors and talk to them about the shingles he manufactures.
"I got to meet a bunch of contractors to see what they thought about GAF products," says Young. "They really appreciate what we do on a day-to-day basis in our factory."
Opportunities Regardless of Experience
I've talked a lot about our Operator roles, but manufacturing plants rely on a wide variety of roles to run well. There are many career paths within the GAF manufacturing family, with roles such as production and shipping workers, forklift drivers, and maintenance engineers that provide competitive hourly wages and lucrative benefits. Someone with no experience can come in, and the GAF team will teach them. Cross-training in multiple roles makes it easy to explore what each role does and understand the full scope of opportunities out there.
At GAF, we value the wide array of experiences that our team brings to the job every day. There is an opportunity for anyone at a GAF plant: specialties as diverse as accounting, supply chain engineering, human resources, and finance can all find a fitting role in our plants.
And, a shout-out to the women in manufacturing. I've seen women do especially well at GAF—once they become part of the team, they stay with us! They take pride in their workmanship, have great leadership skills, and move quickly to positions like line leaders and supervisors. We would love to see even more women embracing these roles.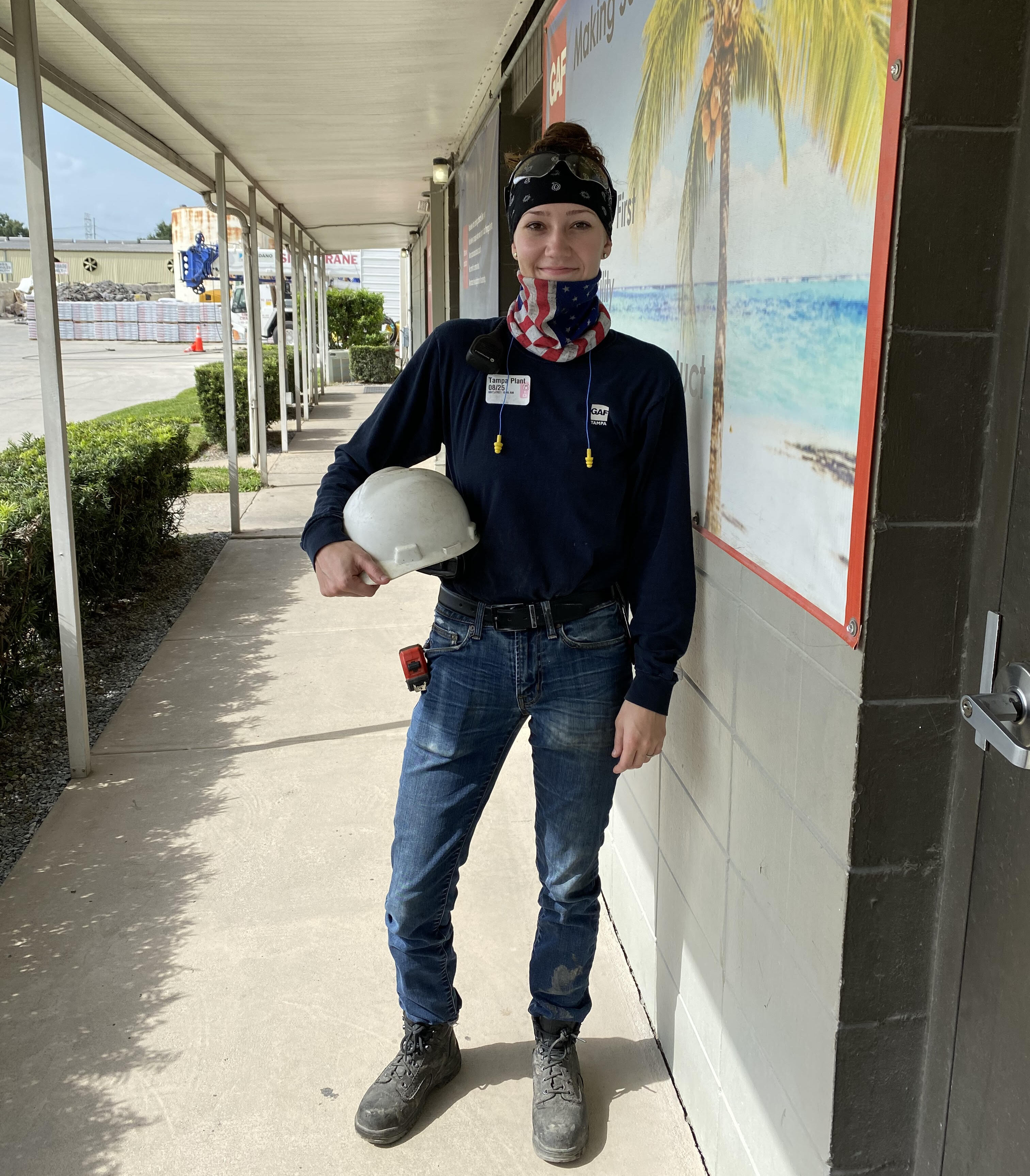 Lauren Holt from GAF's Tampa plant held several roles on the manufacturing team before being promoted to Production Supervisor.

A Company that Gives Back
GAF is committed to supporting the communities where our team members live and work. That's why we develop a plan to give back to each community. Whether it's supporting local families through our work with Habitat for Humanity or building a park for the community, we deliver the support needed to keep our neighbors safe and healthy.
With 34 manufacturing operations in 26 locations across the United States, there's likely an opportunity for you at GAF. Click here to learn more about the people and products that drive GAF's manufacturing network. You can also visit our careers page to explore job openings and apply to build a future in manufacturing.