Construction planning through to completion can be tricky to coordinate, especially within an urban area, which can present a range of complications. Building proximity, tall building heights, complex building structures, and densely populated areas are just a few challenges that can make it particularly difficult to consider traditionally heavy or large-sized materials when roofing or re-roofing a building.
In addition to construction planning constraints, states such as California, New York, and others are adopting more stringent building codes to help alleviate the effect of urban heat islands.
As property owners, architects, specifiers, and contractors are seeking new solutions to overcome these issues, the roofing materials industry is seeing increasing adoption of coatings and liquid membrane products that are easy to deliver and apply to the roof, while generating potential labor and installation savings during construction plus lower material costs for long-term maintenance.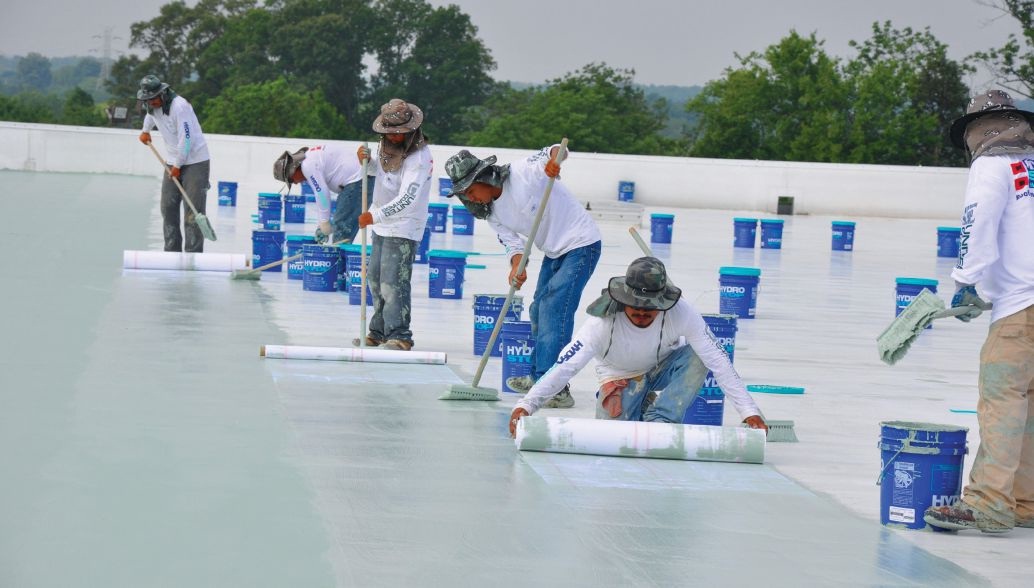 Benefits of Coatings for Urban Projects
Coatings offer a distinct advantage in urban construction environments due in part to their mobility, ease of application, and potentially low environmental impact. At an average weight of 60 lbs. (27.2 kg) per 5-gallon (18.9 L) pail that can be carried by a handle, coatings solutions can ease transportation in ways that traditional roofing materials may not. Thanks to service elevators, coatings' advantages are often seen in busy metropolitan areas where using a crane or halting traffic may be expensive or otherwise challenging.
Coatings also adhere to many existing roof materials, which can be helpful when restoring a structurally sound, low-slope roof that may have multiple surfaces, such as an asphaltic roof, a metal drip edge, and polyvinyl chloride (PVC) vent pipes.
Coatings are manufactured to be "built on site," whether as just a coating with no reinforcement or through a layered approach, where fabric is embedded in the coating to create a reinforced liquid-applied membrane.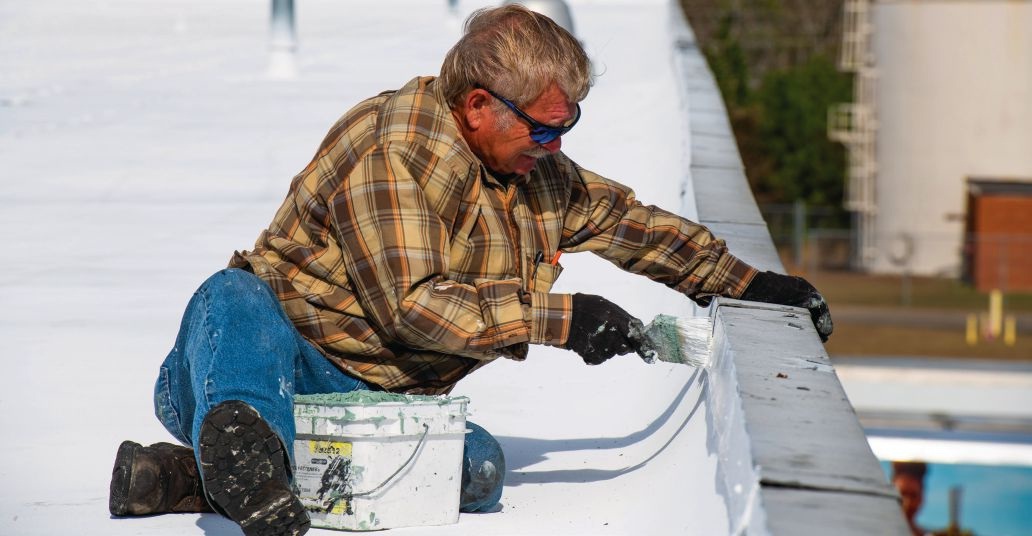 The versatile application methods of liquid products and fabric rolls are a key benefit to urban construction projects. Many times, these products can be quickly and easily applied using brushes, rollers, or squeegees. These tools are relatively lightweight and easy to transport, and they don't require power or specialized equipment that may not travel well or can be disruptive to residents and neighbors — making them ideal for city construction in tight, crowded spaces.
Additionally, with the build-on-site capability of liquid membranes and a lightweight fabric, it's possible to optimize a roof system to match any space. Liquid-applied products can seamlessly adhere to angles, making them an ideal solution for a roof with many details that need to be flashed or angles where a custom fit is needed, conforming to any detail to provide waterproofing protection.
Coatings are also useful in maintaining and repairing roofs, which makes them a viable option for building owners and facility managers looking for a roof that can be easily maintained with similar materials to ensure proper adhesion and extend performance.
Liquid-applied products can also meet the requirements of a more sustainable and environmentally conscious roofing solution. They may have the ability to restore a structurally sound roof without the need to tear off the existing roof. Additionally, many coatings are manufactured to comply with regulatory requirements, such as low volatile organic compounds (VOC) content, low or no biocides, or being zinc free (always make sure to check local building codes for applicable requirements).
Types of Coatings for Urban Projects
There are many different technologies when it comes to roof coatings, and each has a unique advantage and offers a unique solution, depending on the needs of a project.
Items to consider when selecting a coatings technology often include regulatory requirements and local VOC restrictions, weather conditions affecting the roof, the amount of foot traffic on the roof, and a range of other factors that may be unique to the roof.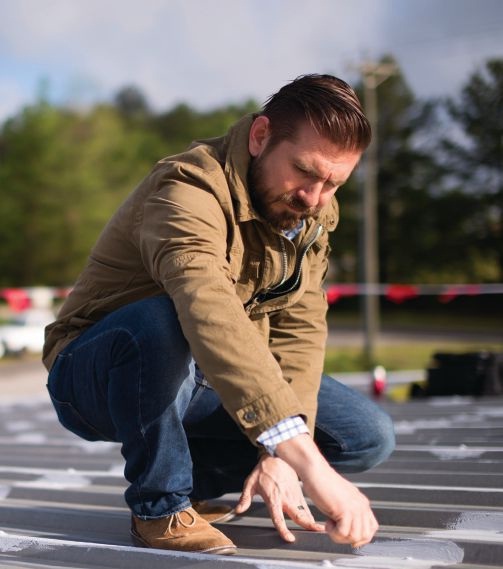 As with any project, it is important to ensure that each product meets or exceeds testing and certification requirements when selecting any coatings solutions, including the following:
• Acrylic coatings are water-borne, typically have low VOCs and low odor, and can easily be applied or recoated in the future. Most acrylics are one-part products, meaning they are ready to use, and there is no need for mixing multiple components. Typically applied via brush, roller, or sprayer, acrylic coatings also offer easy cleanup.
• Fluoropolymer (polyvinylidene difluoride, or PVDF) technology is a water-borne technology manufactured using Kynar Aquatec resin, which is based on Kynar 500 technology. The technology provides color stability, a strong solar reflectivity of lighter color coatings, and architectural or aesthetic value. This product is typically used only as a topcoat (over an acrylic basecoat) and on roofs where aesthetics are a primary concern.
• Silicone coatings are moisture cured, have low odor, and can be applied easily. Offering a wide range of solutions to many roofs, silicone coatings are generally chosen for their high solids content. In particular, customers choose high-solids silicone coatings because they are suitable for roofs that pond water.
• Urethane coatings, both single-component (1K) and two-component (2K), are solvent-borne, high-solids technologies that provide an excellent balance of tensile strength, elongation, and hardness. The 2K urethane products are specifically chosen when durability, dirt and mildew resistance, chemical resistance, weatherproofing, and high abrasion and impact resistance are needed.
Combating Urban Heat Islands
The urban heat island effect can best be described as what happens to urban areas as populations move into a central area — more pavement, fewer trees, more infrastructure, and more hardscape. There are many studies on the effects of urban heat islands, and while hard surfaces such as pavement play a large role, so do roof surfaces. This dynamic leads to higher temperatures in these areas, whereas their surrounding rural landscapes, which often have less pavement, more trees, and less infrastructure, typically see lower temperatures.
To help mitigate this effect, coating roofs (and pavement) with lighter, more reflective colors will help lower roof temperatures.
By coating an asphaltic roof with a white acrylic coating, one can greatly reduce the surface temperature. According to a 2010 article entitled, "Potential Benefits of Cool Roofs on Commercial Buildings," that reduction may be as much as 55 °F (30.6 °C) and may also result in significant savings in cooling energy. Cooling of the roof not only benefits the building owner but can also reduce the heat island effect in the area.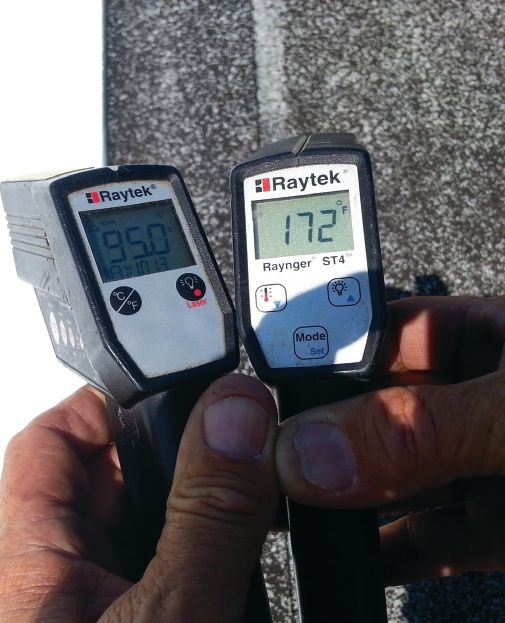 Conclusions
Whether your need is easy delivery to an urban roof project, a creative roof design that will protect the building and provide a seamless detail, or a reflective roof solution to mitigate urban heat island effects, coatings and liquid membranes are a viable solution for you. With many different coatings technologies and manufacturers on the market, the decision can be challenging. To assist with your decision, ensure that you partner with a manufacturer who offers many solutions so you can find the one that is best suited for your project.
To explore liquid-applied coatings solutions offered by GAF, click here.